King's College Wedding Photography Inspiration
Hello, and thank you very much for taking the time to look through my wedding photography. I am a Cambridge wedding photographer who loves to document wedding days in a relaxed, natural style.
On this page I have collected some of my favourite photographs from King's College weddings. I hope these will provide some inspiration to you if you're planning your own wedding at King's.
These pictures include photographs from the world-famous chapel, gorgeous gardens and beautiful main hall.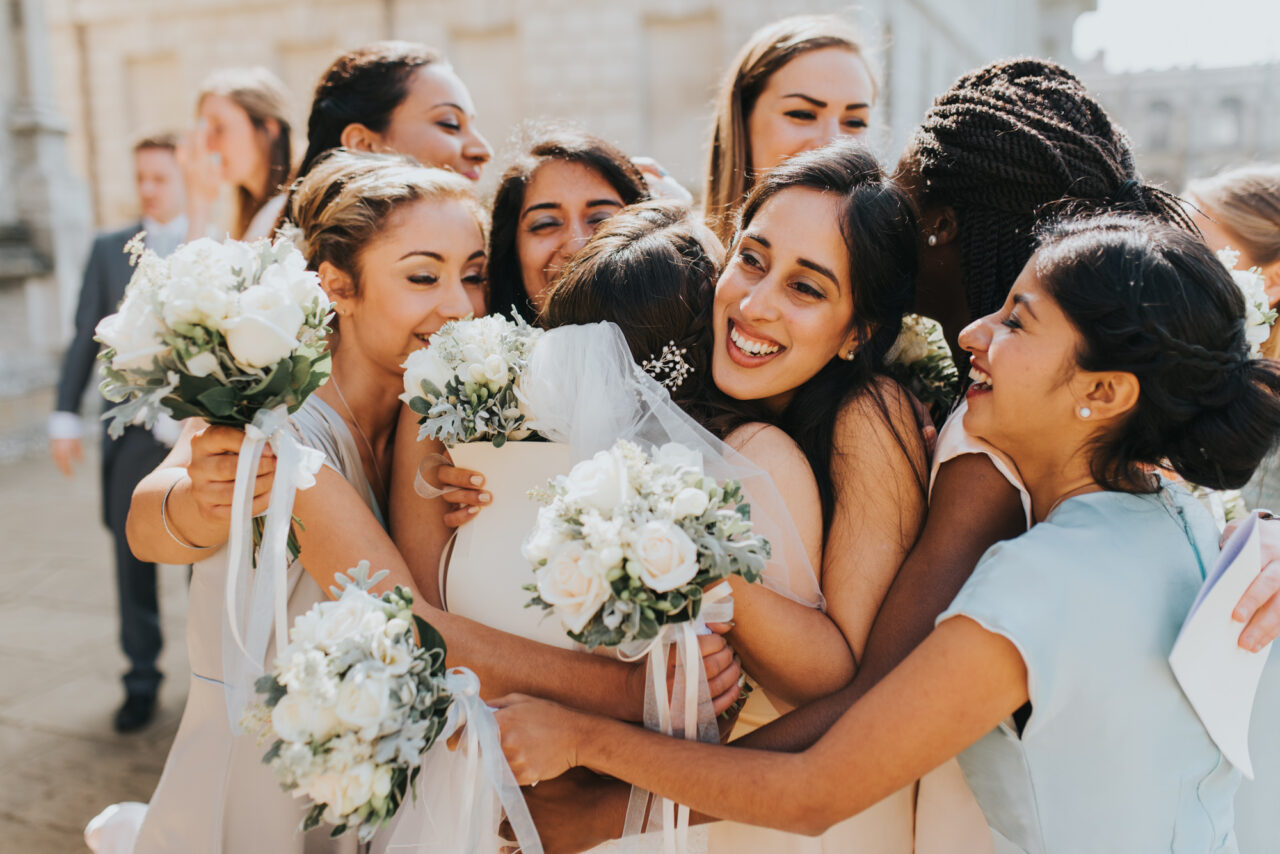 King's College Chapel
I hope in these pictures from the chapel you will get a sense of the scale and beauty of this building. The light stone walls reflect the sunlight beautifully – especially in the famous east end of the chapel where the Rubens painting hangs by the altar. I also make sure to photograph closer pictures as the ceremony proceeds and try to feature the bride and groom and guests too.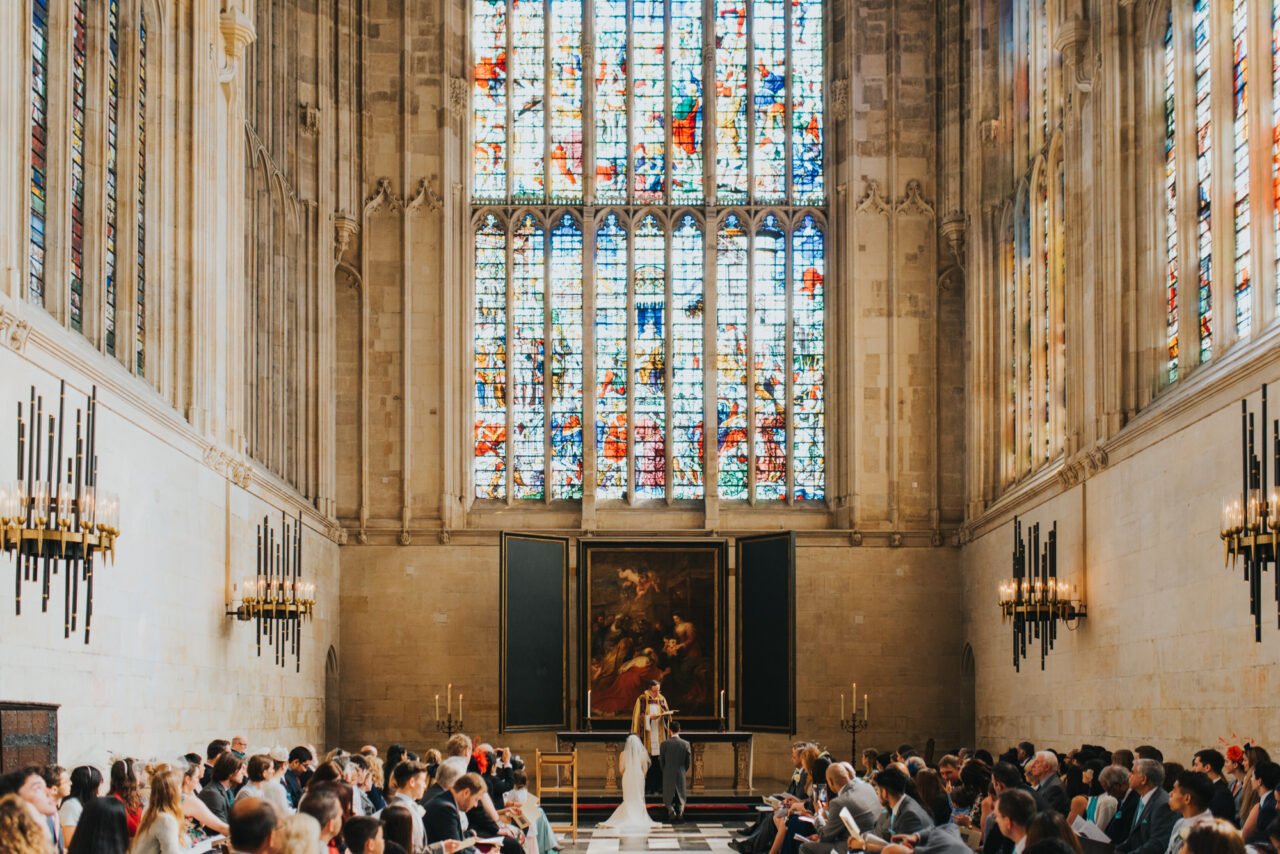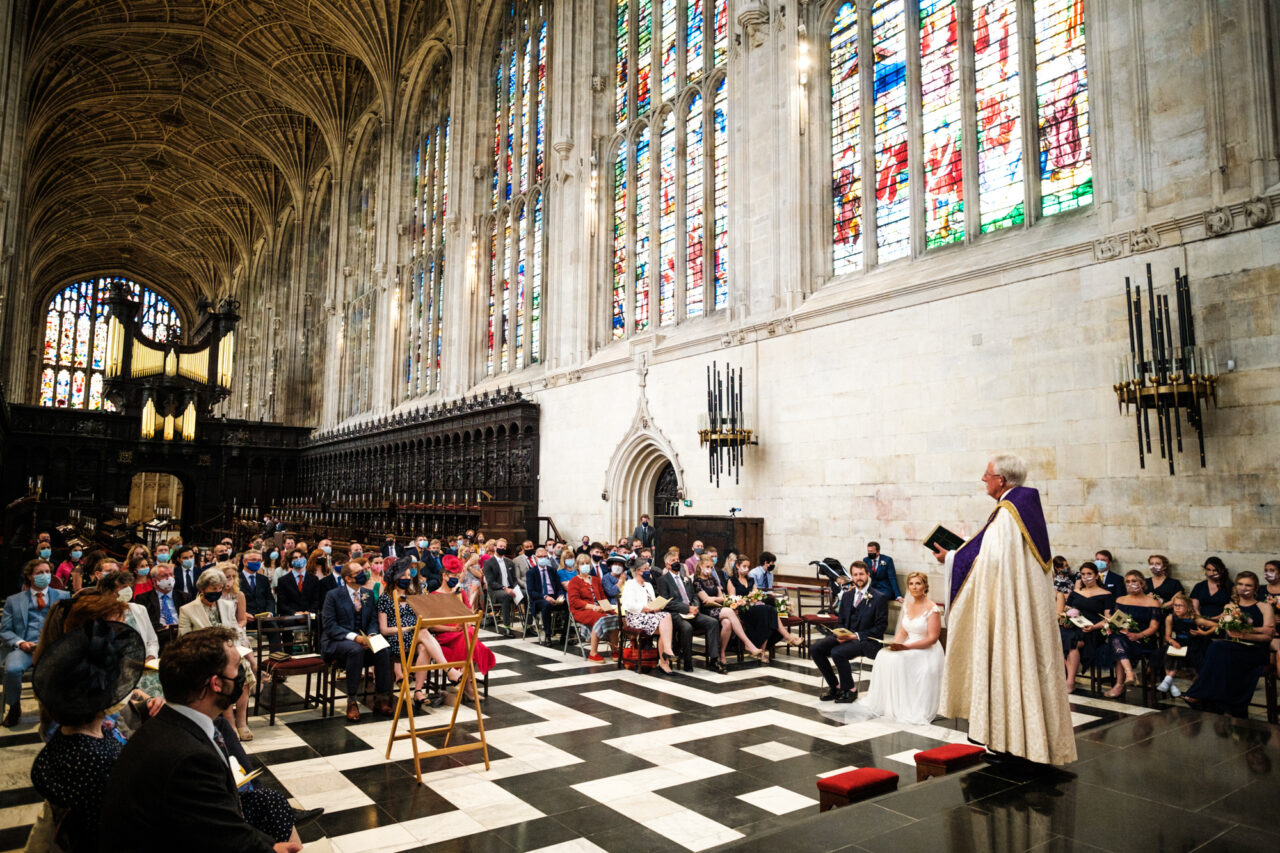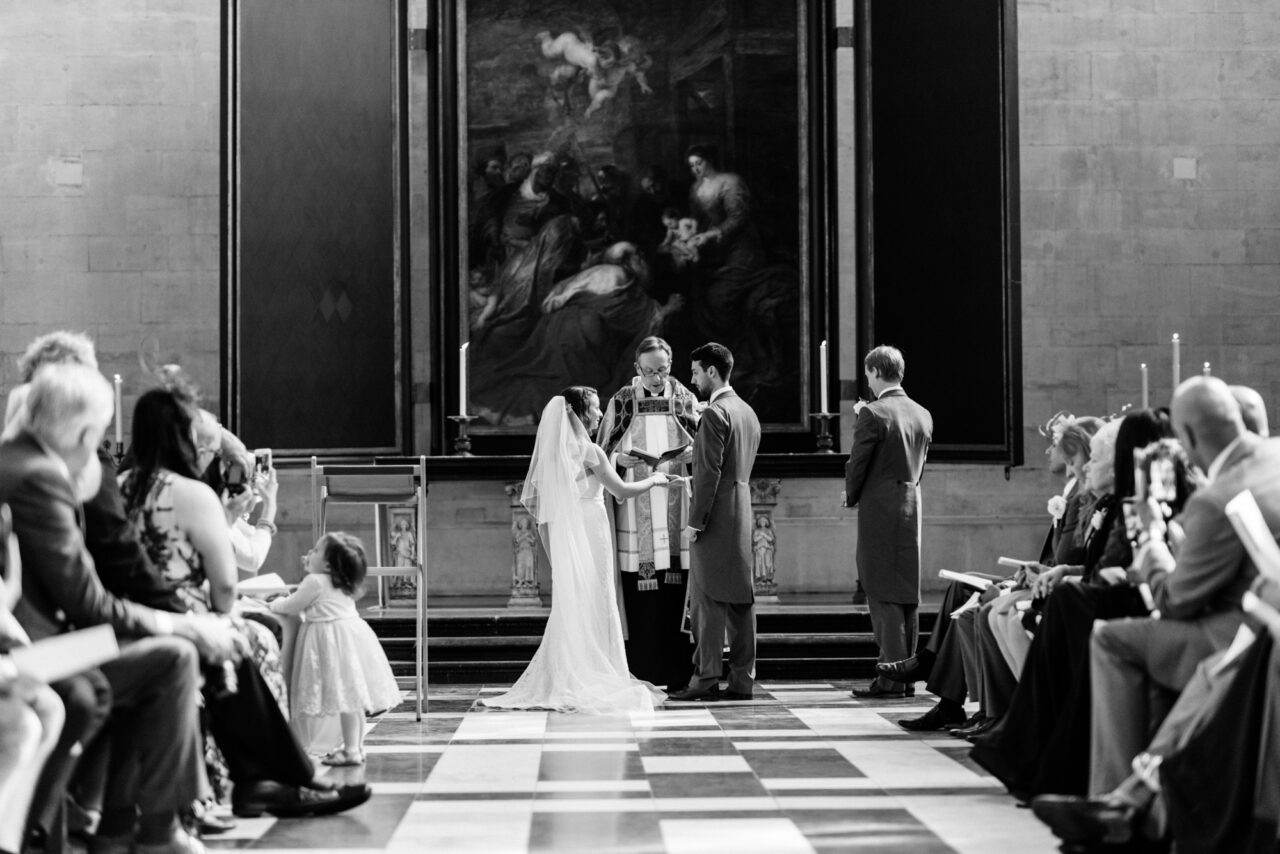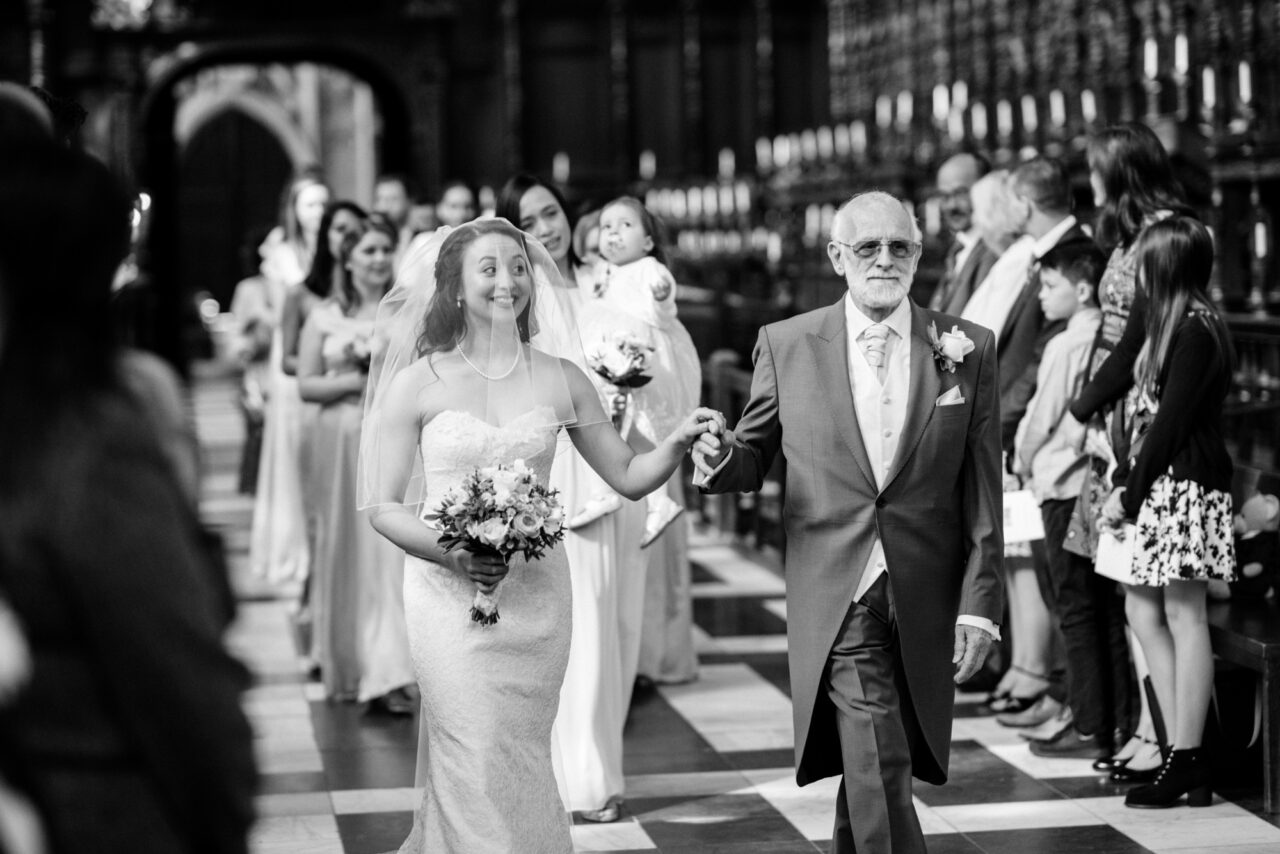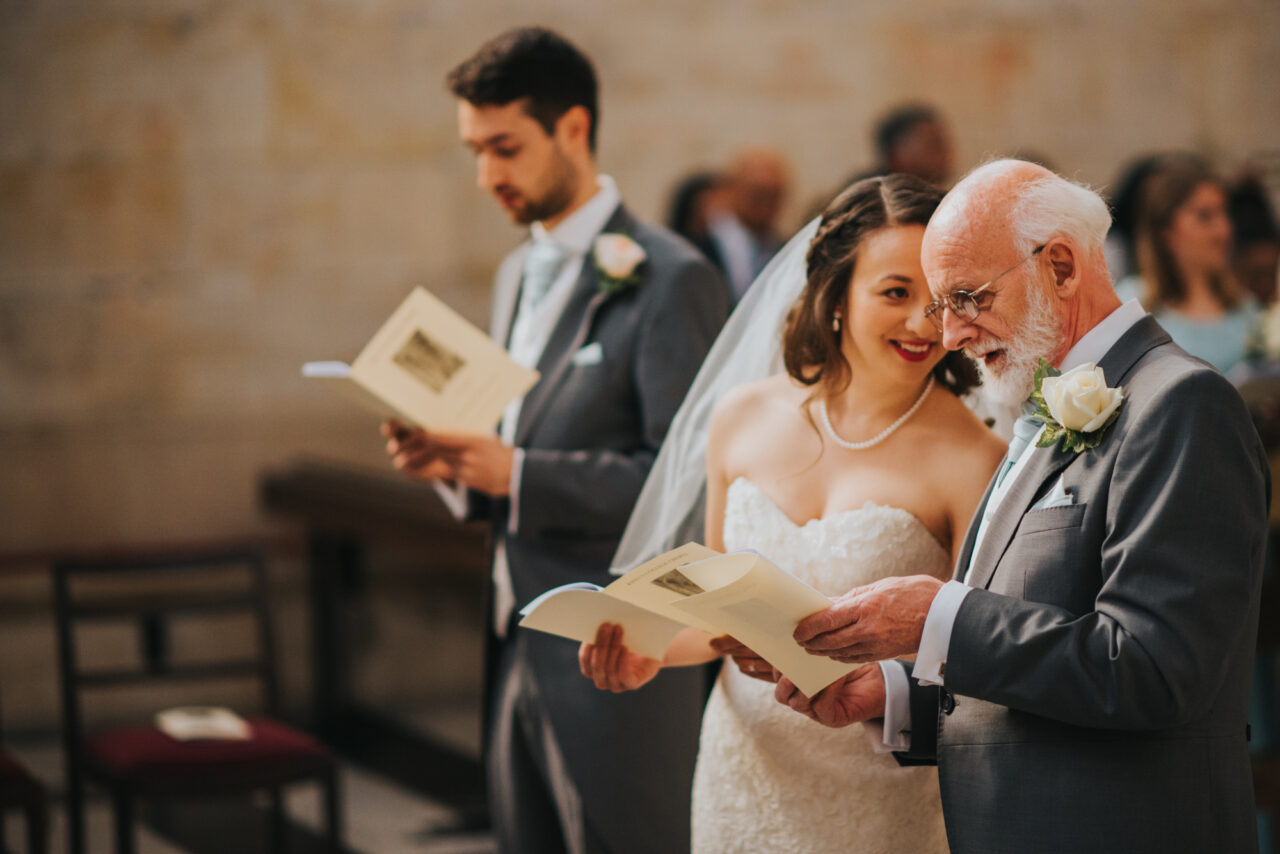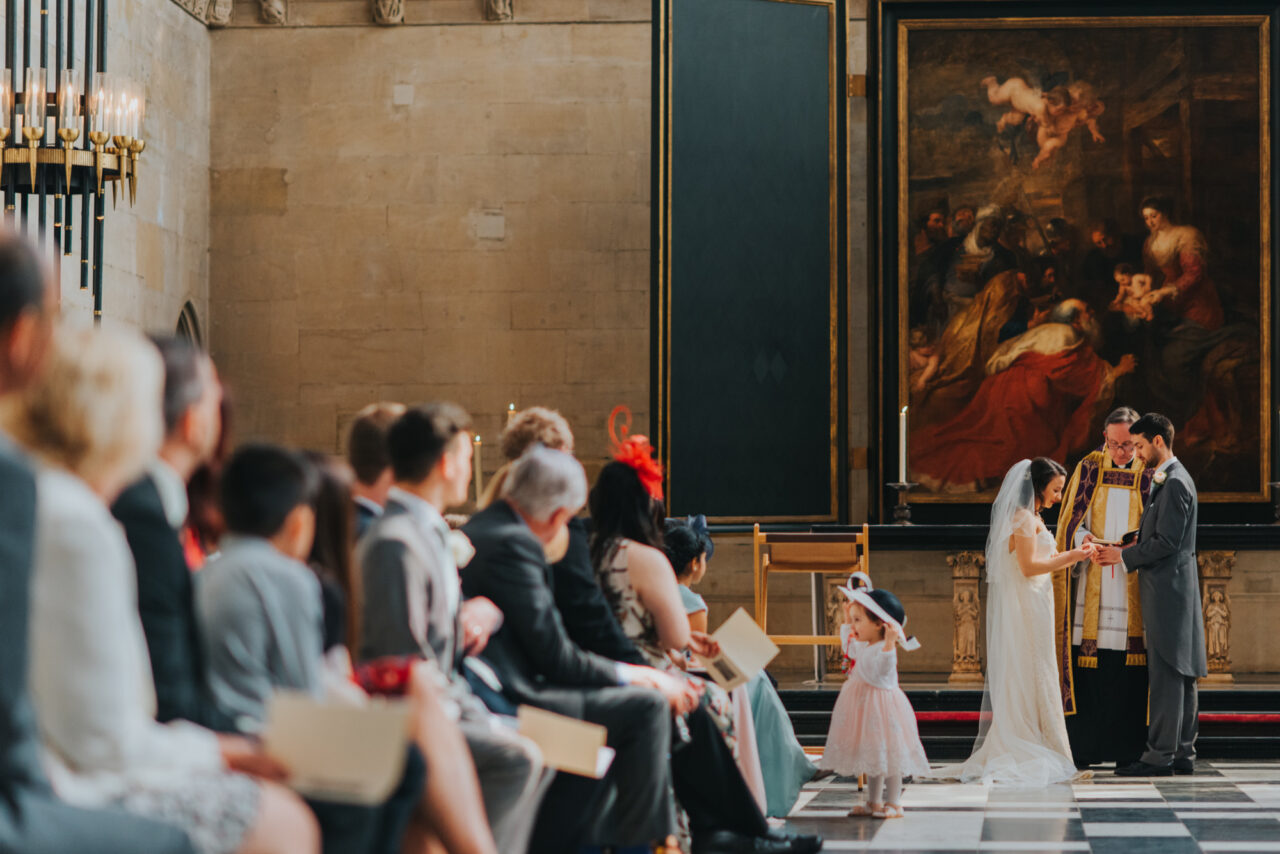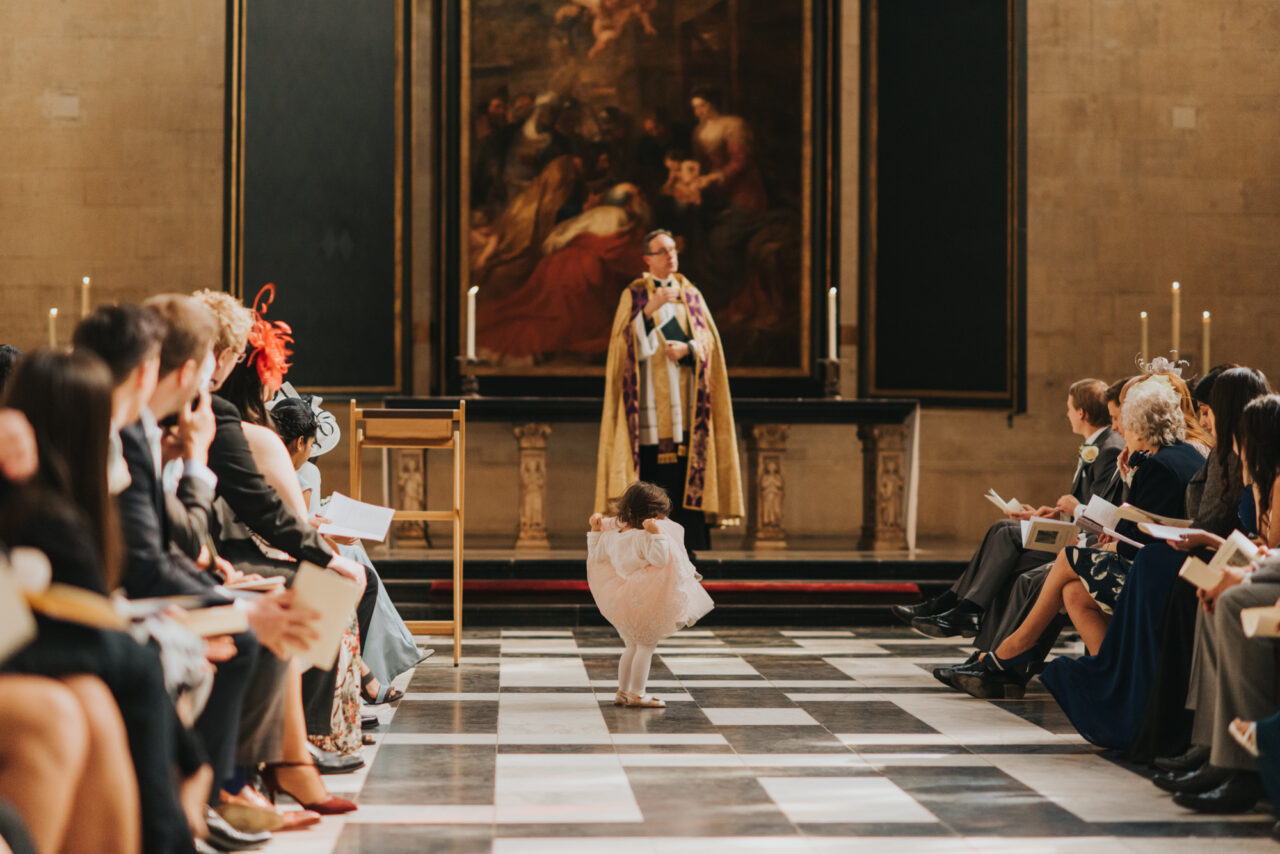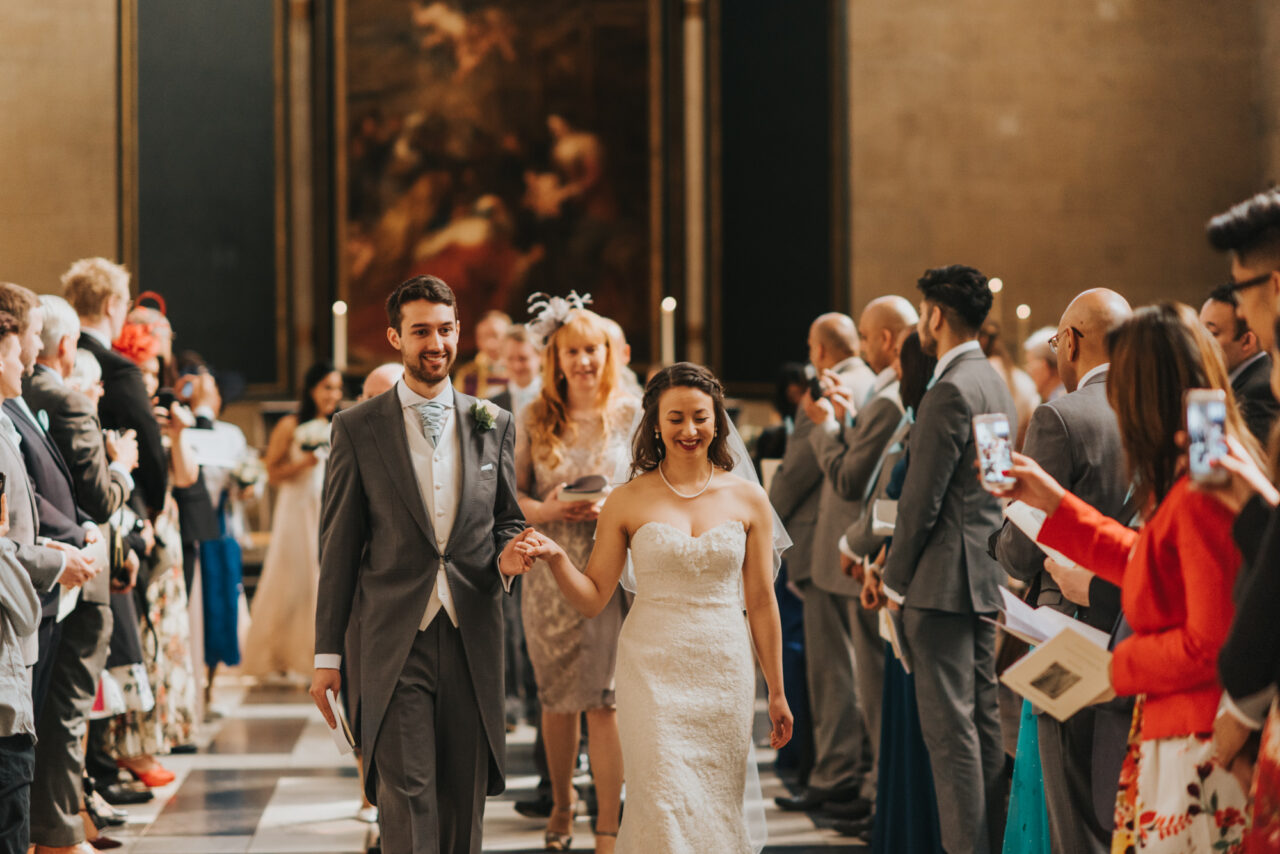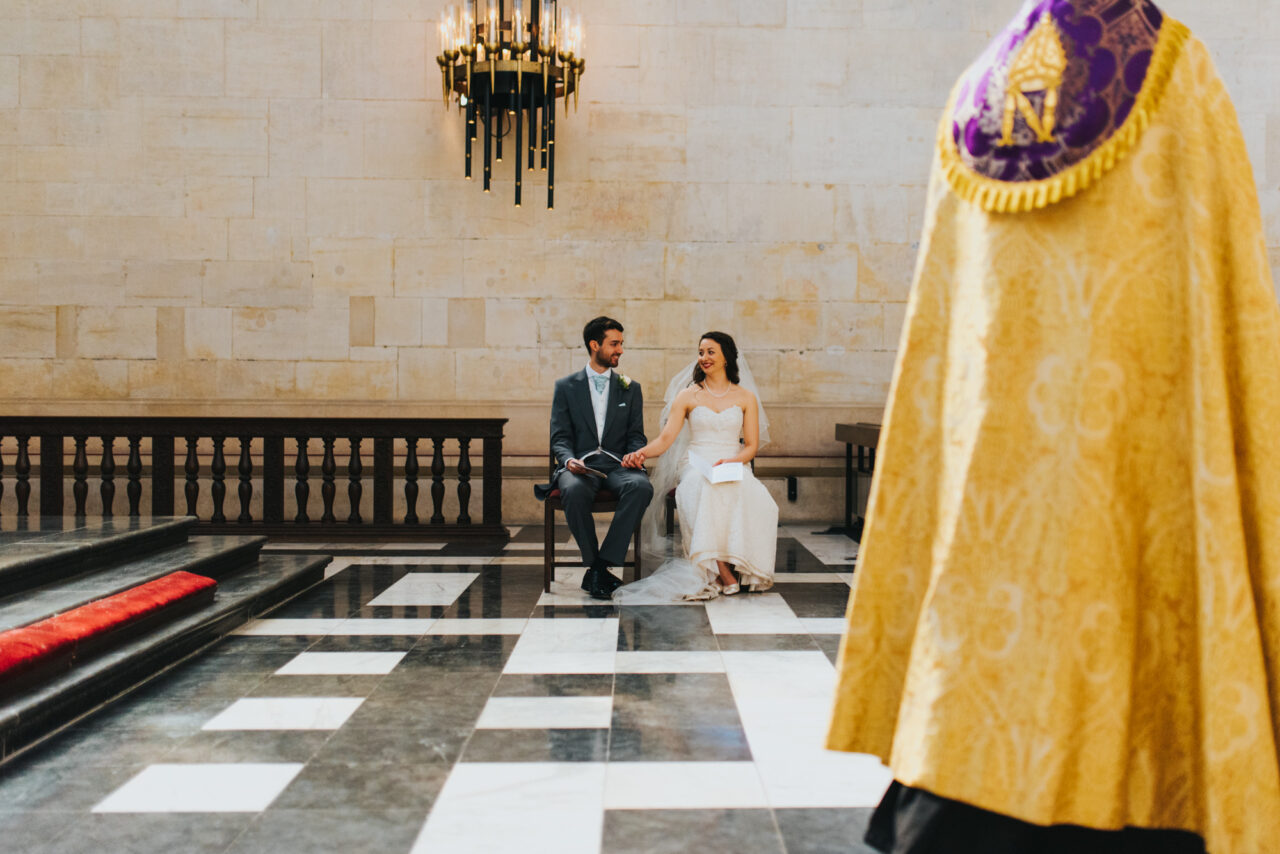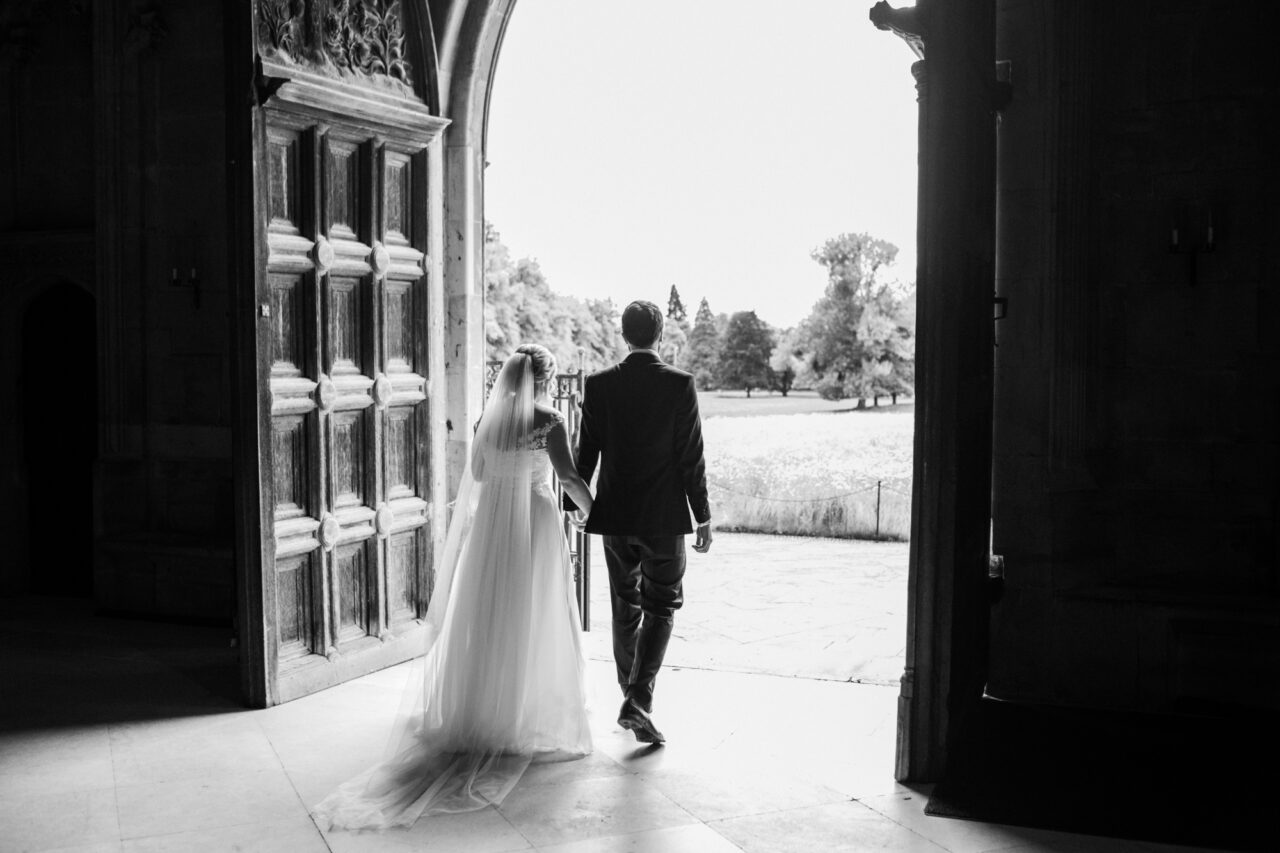 King's College Grounds
Next we move outside. King's College offers exquisite grounds that are perfect for your drinks reception and wedding photos. The combination of stunning architecture and beautiful gardens, creates quite an idyllic setting. It's all a fantastic backdrop for your afternoon drinks and of course for your photos.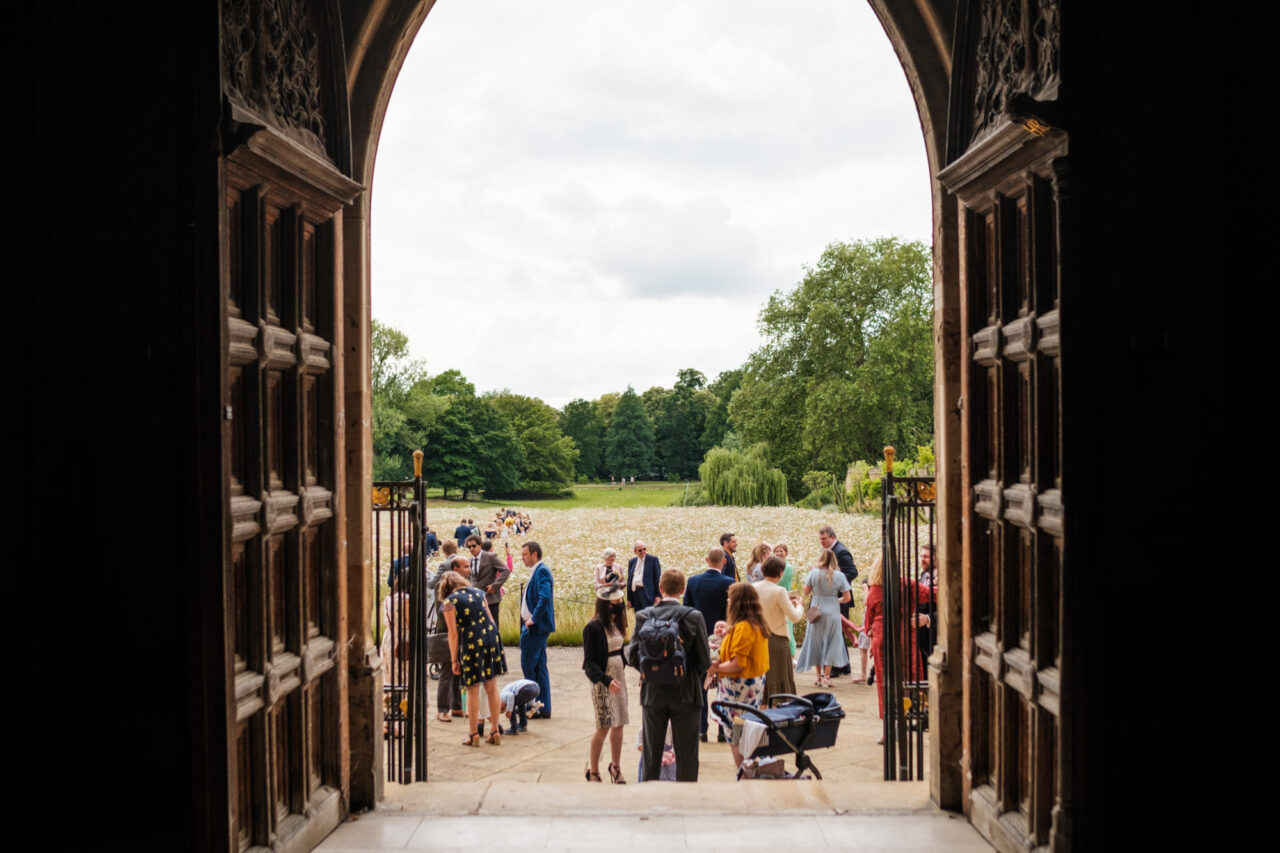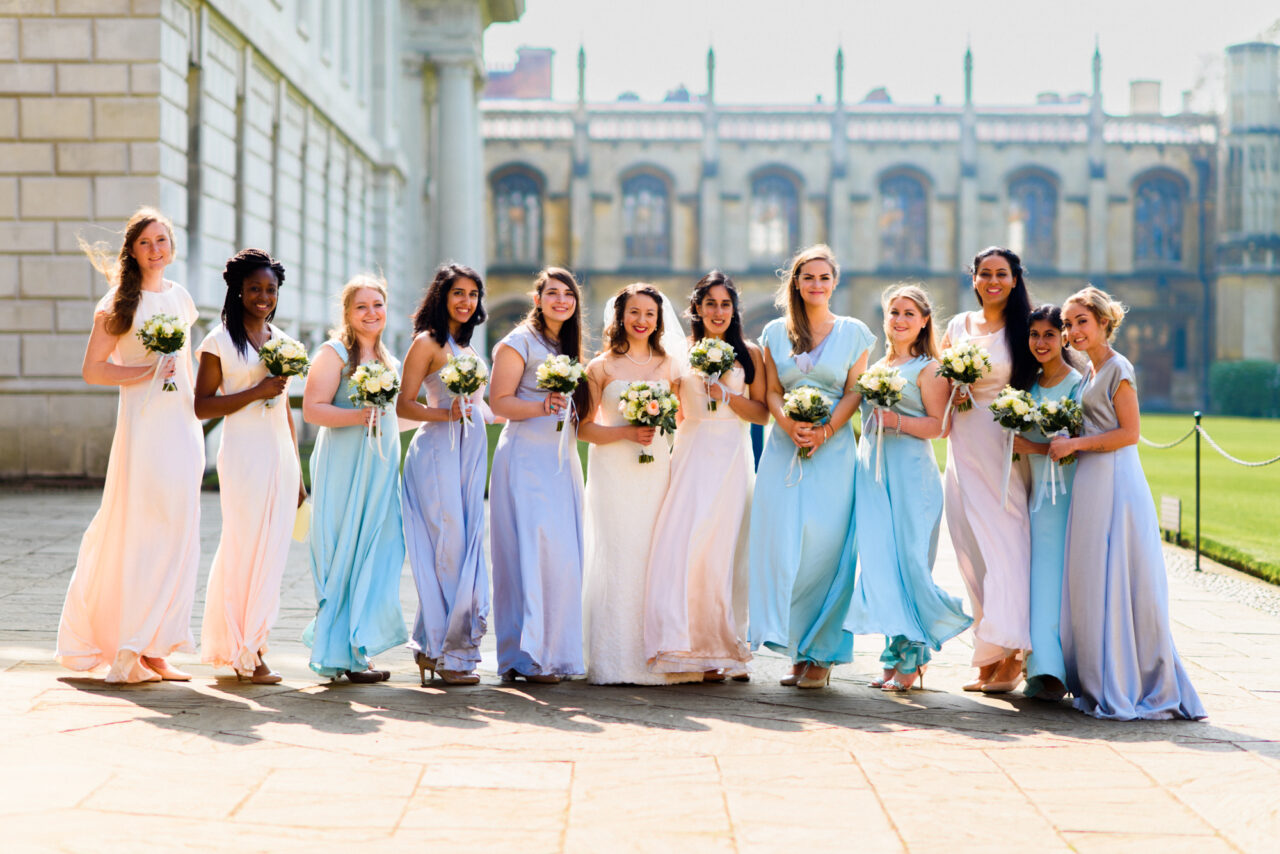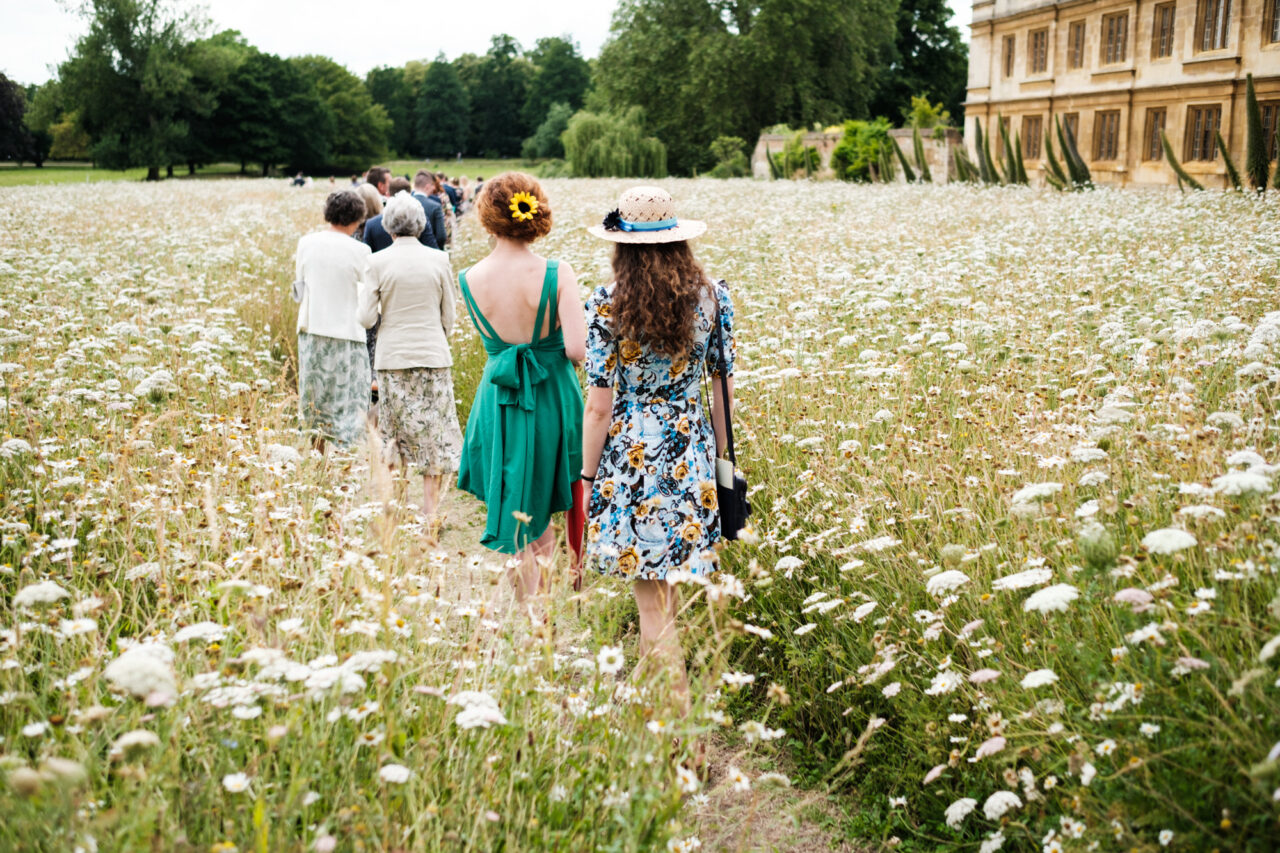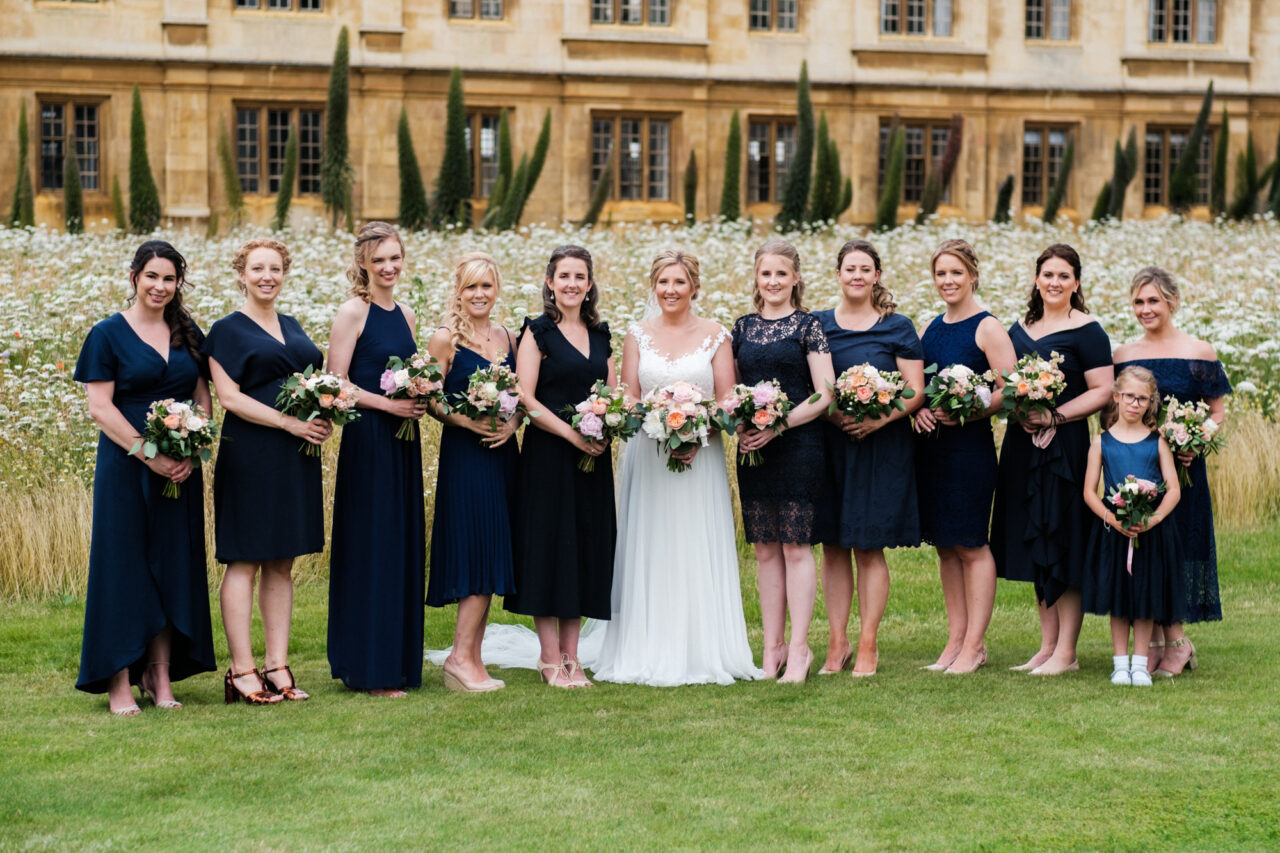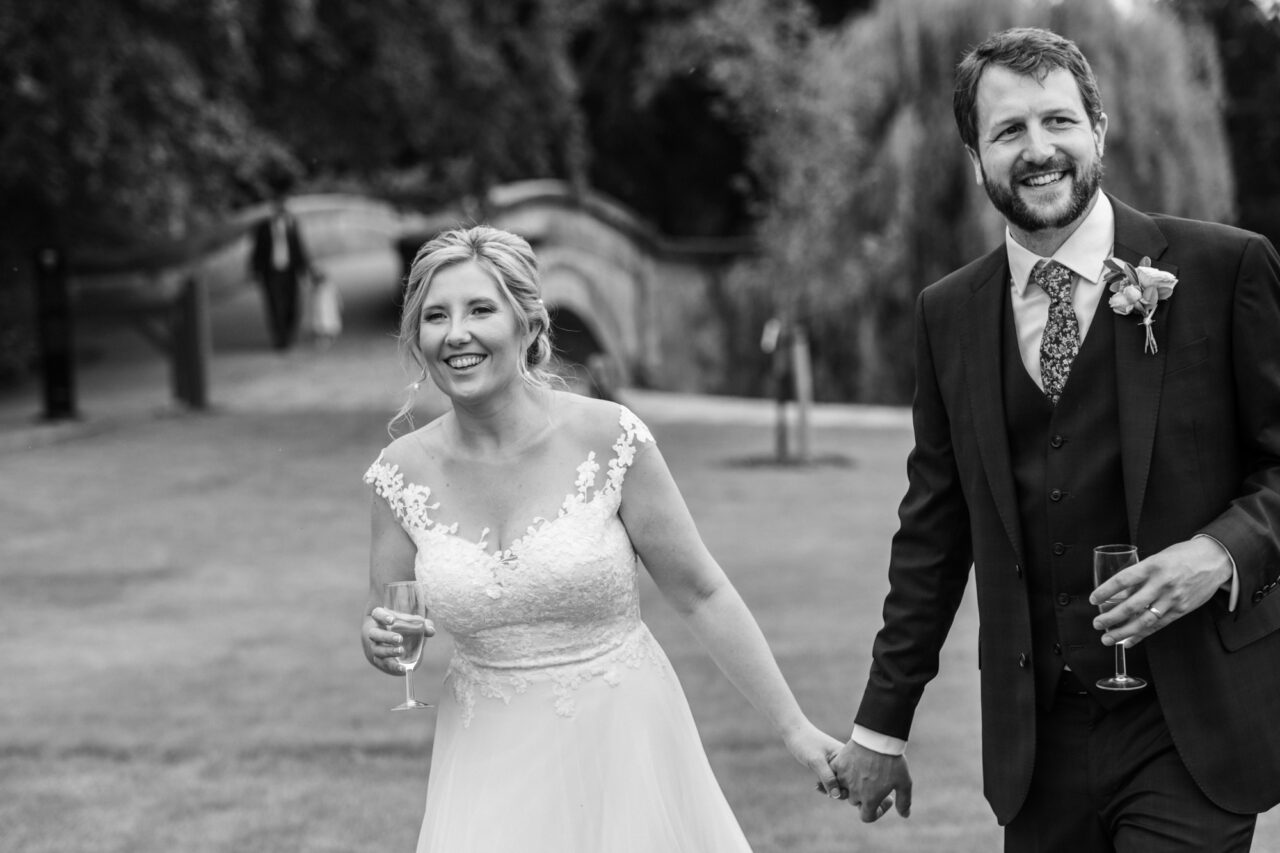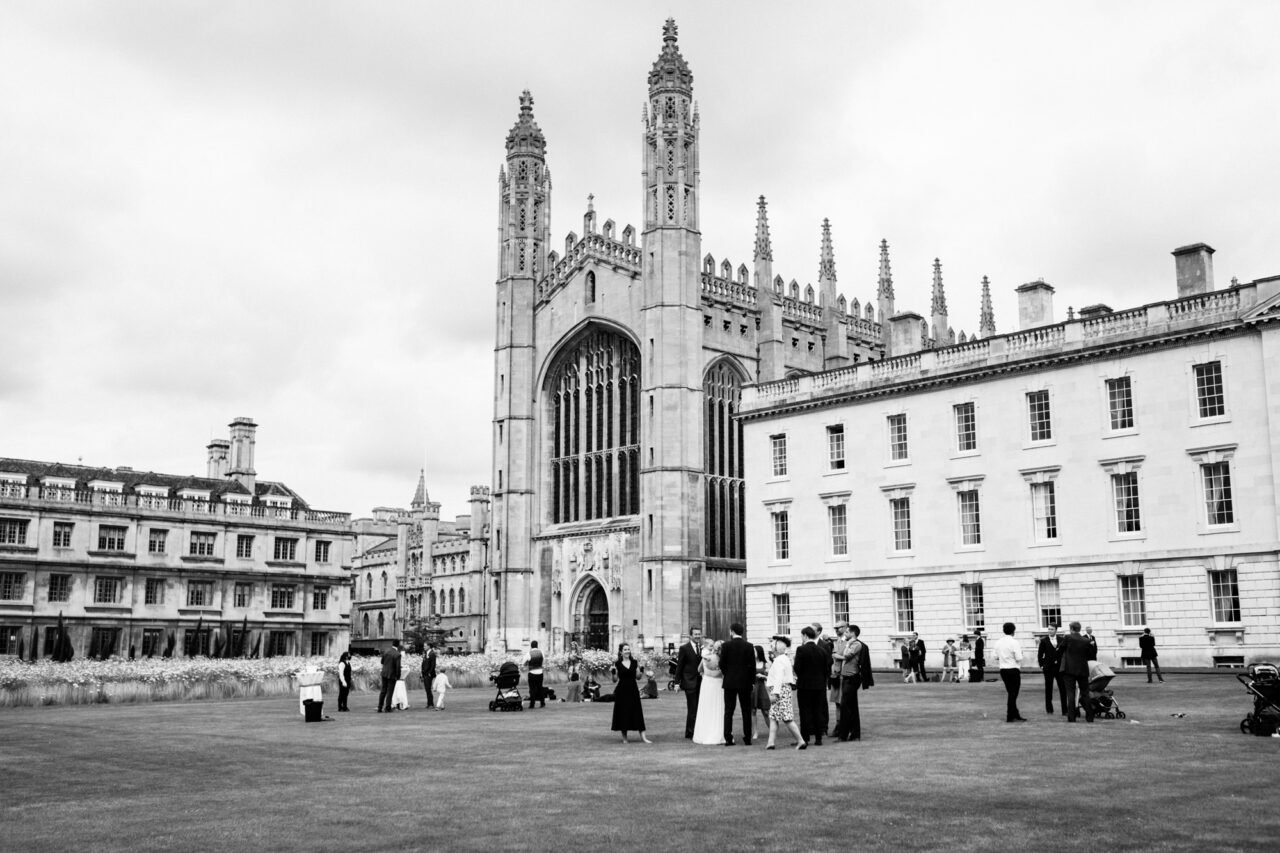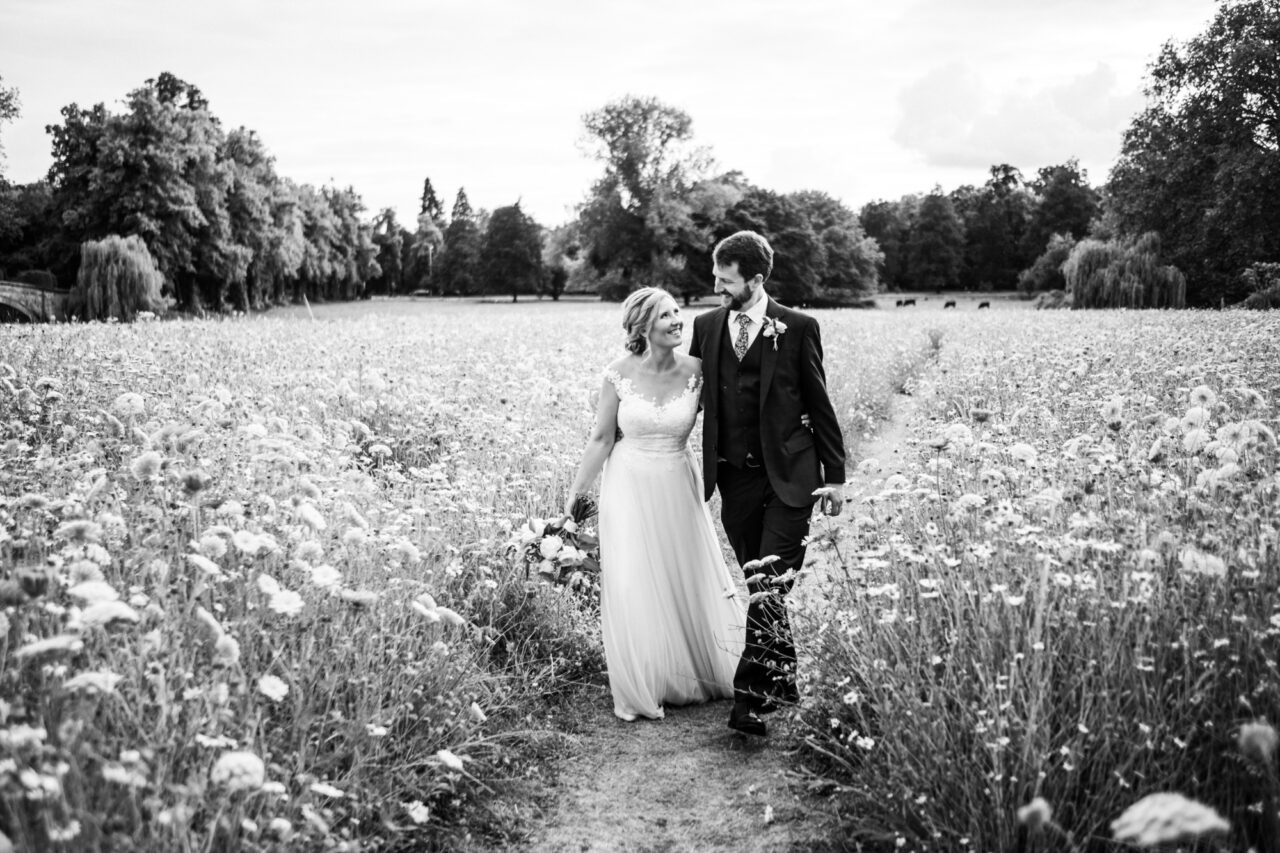 Some Outdoor Speeches
You might recall that a few years ago holding events outside in the fresh air was quite the fashion. That's behind us now fortunately, but I really love how these pictures show a twist on tradition. As a photographer I am always excited by the prospect things happening a little differently – and in beautiful natural light.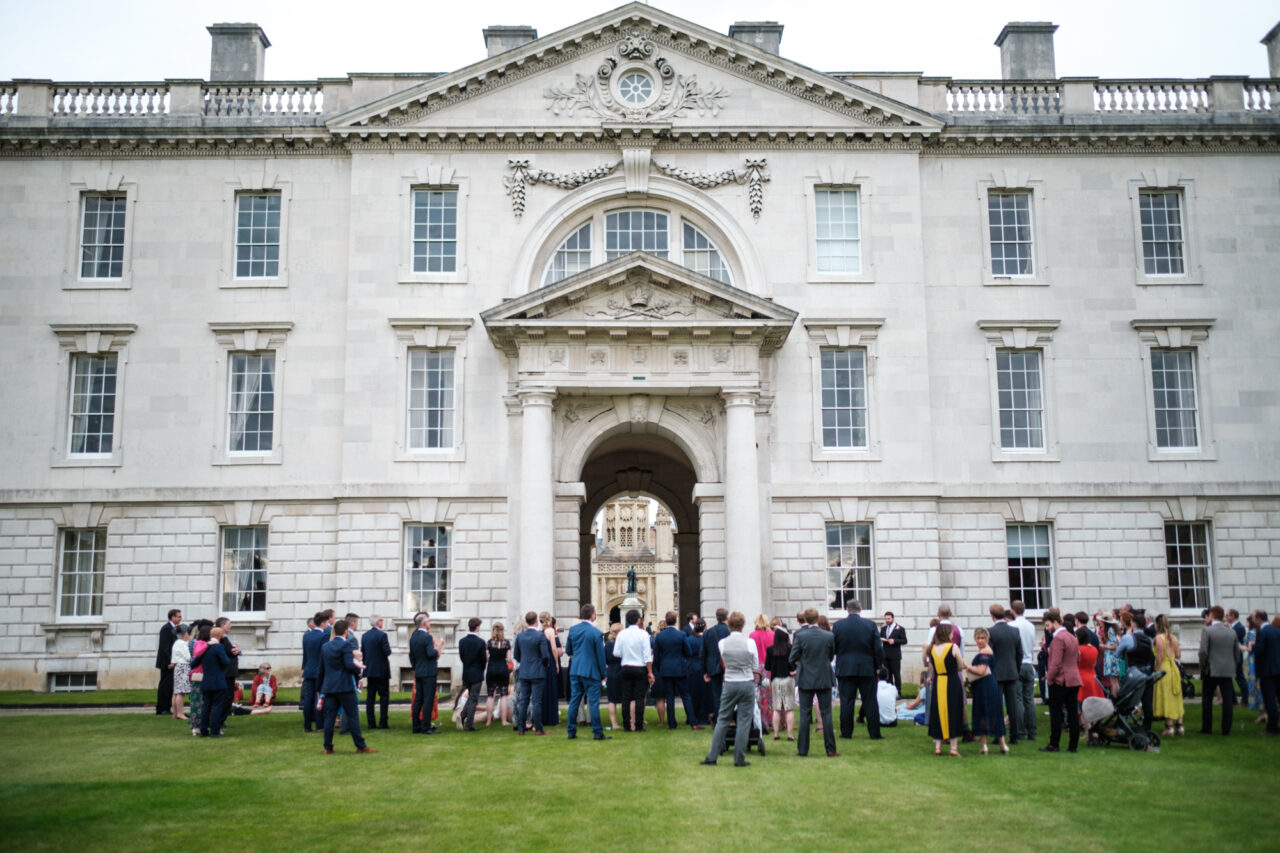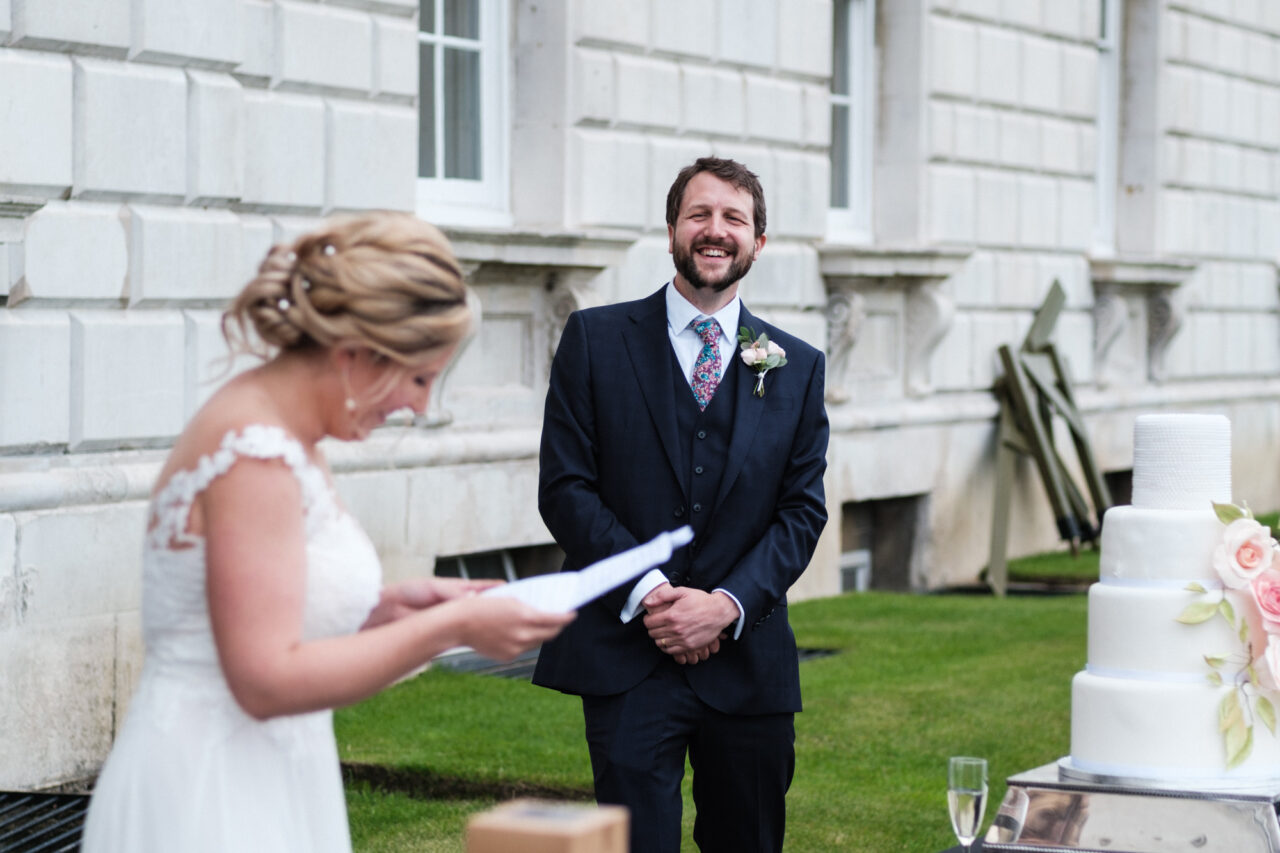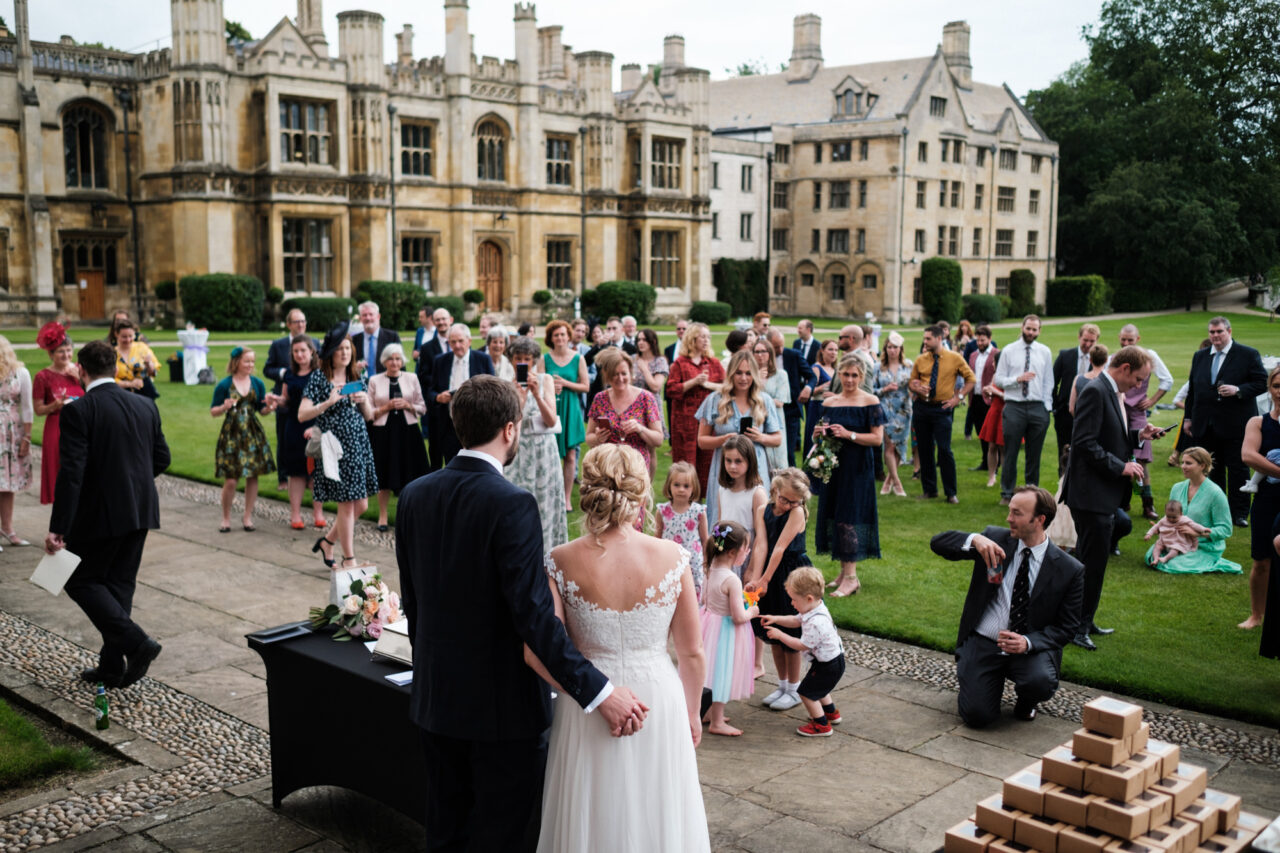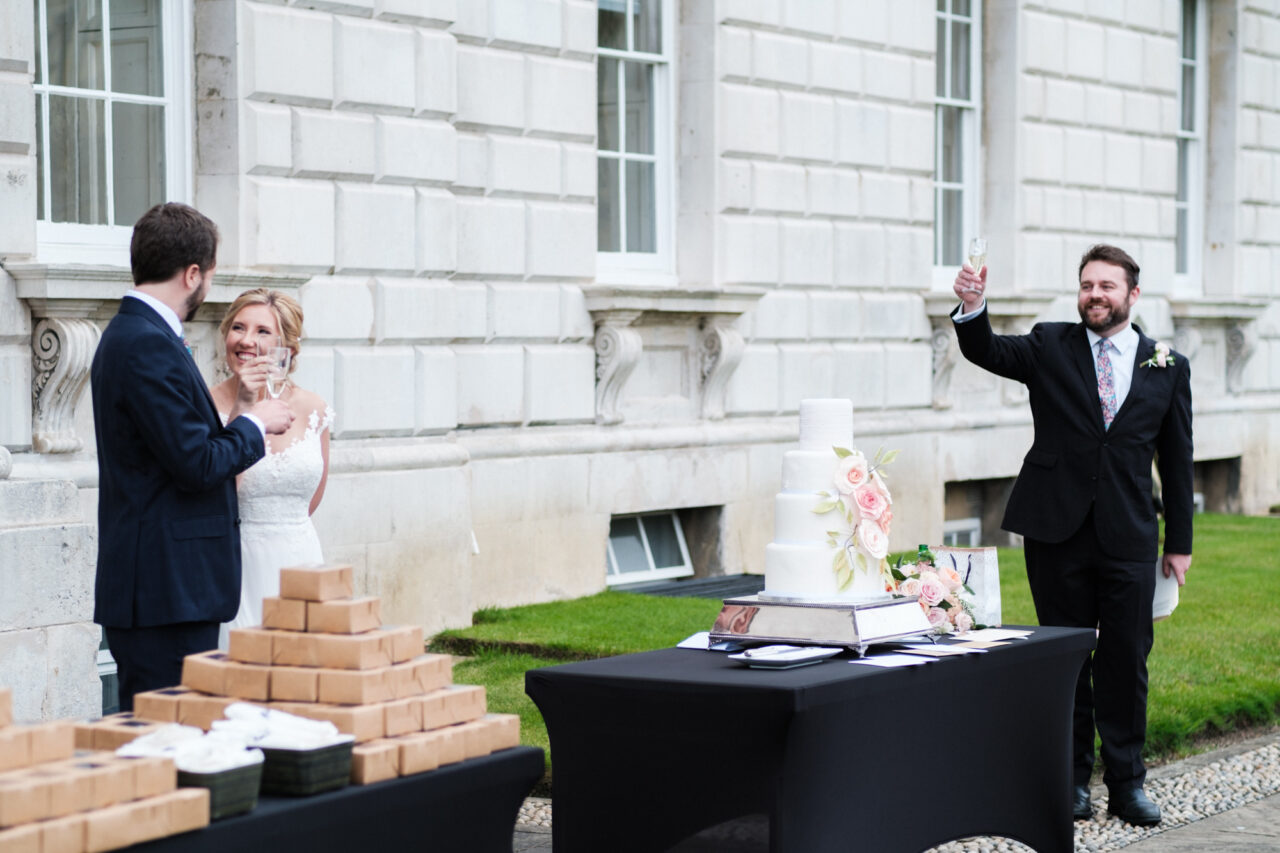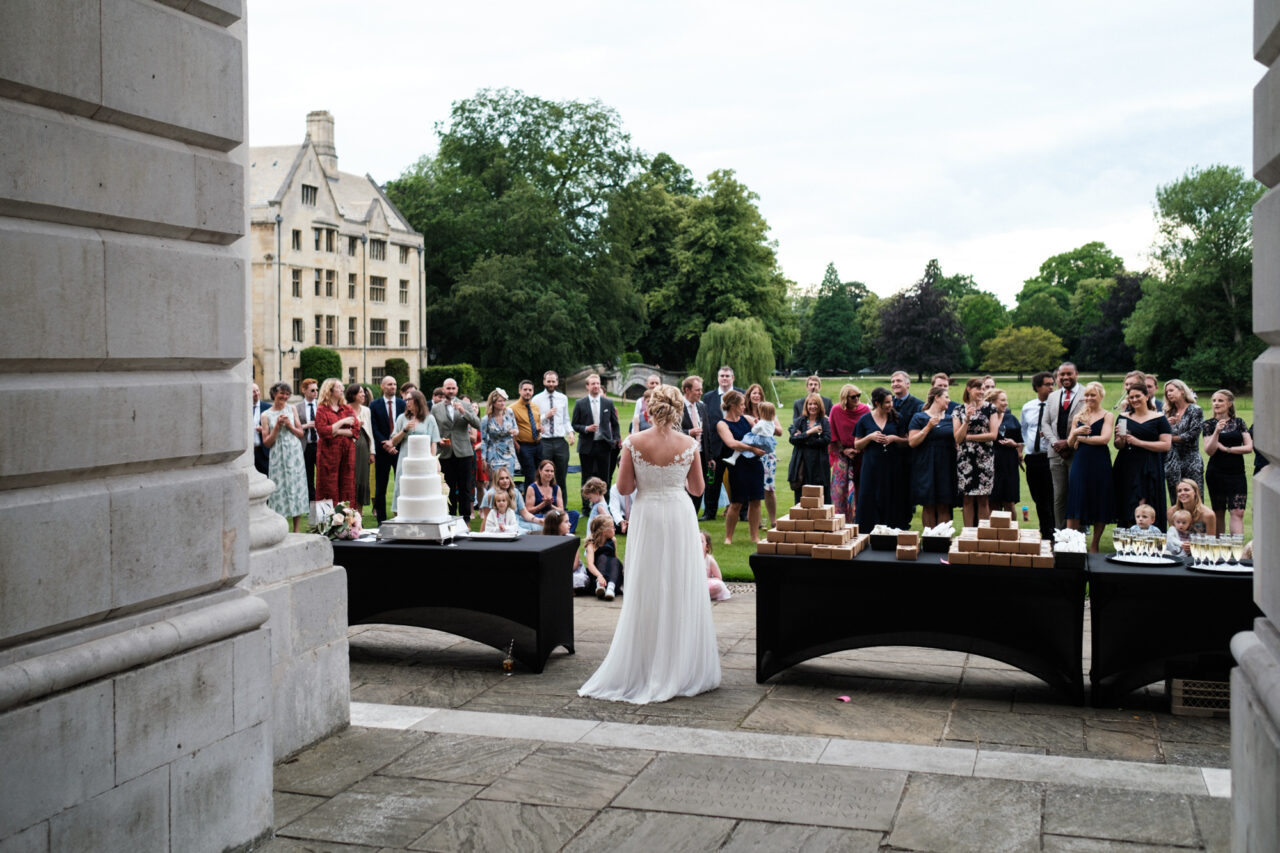 King's College Hall
Here are some pictures from the ornate King's College Hall – set up for both a large and intimate wedding breakfast.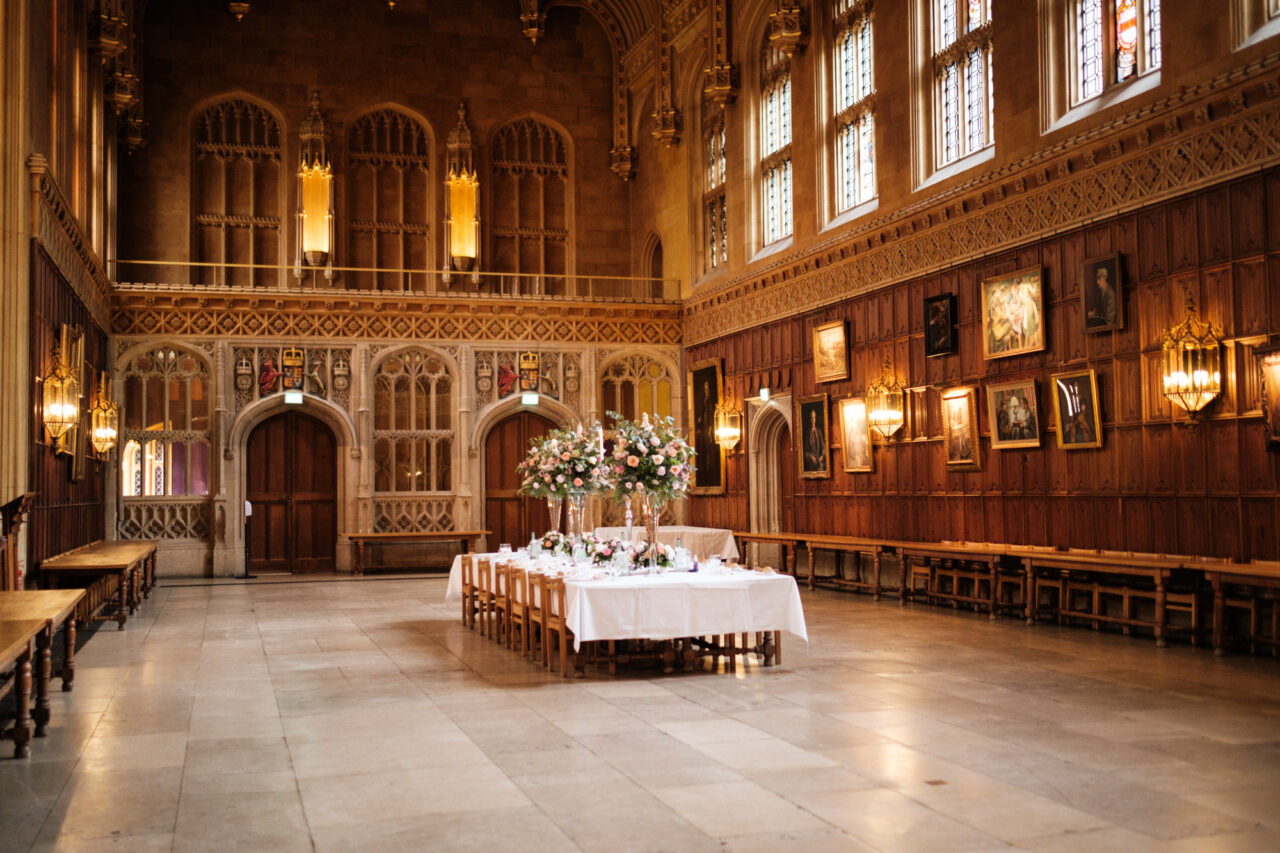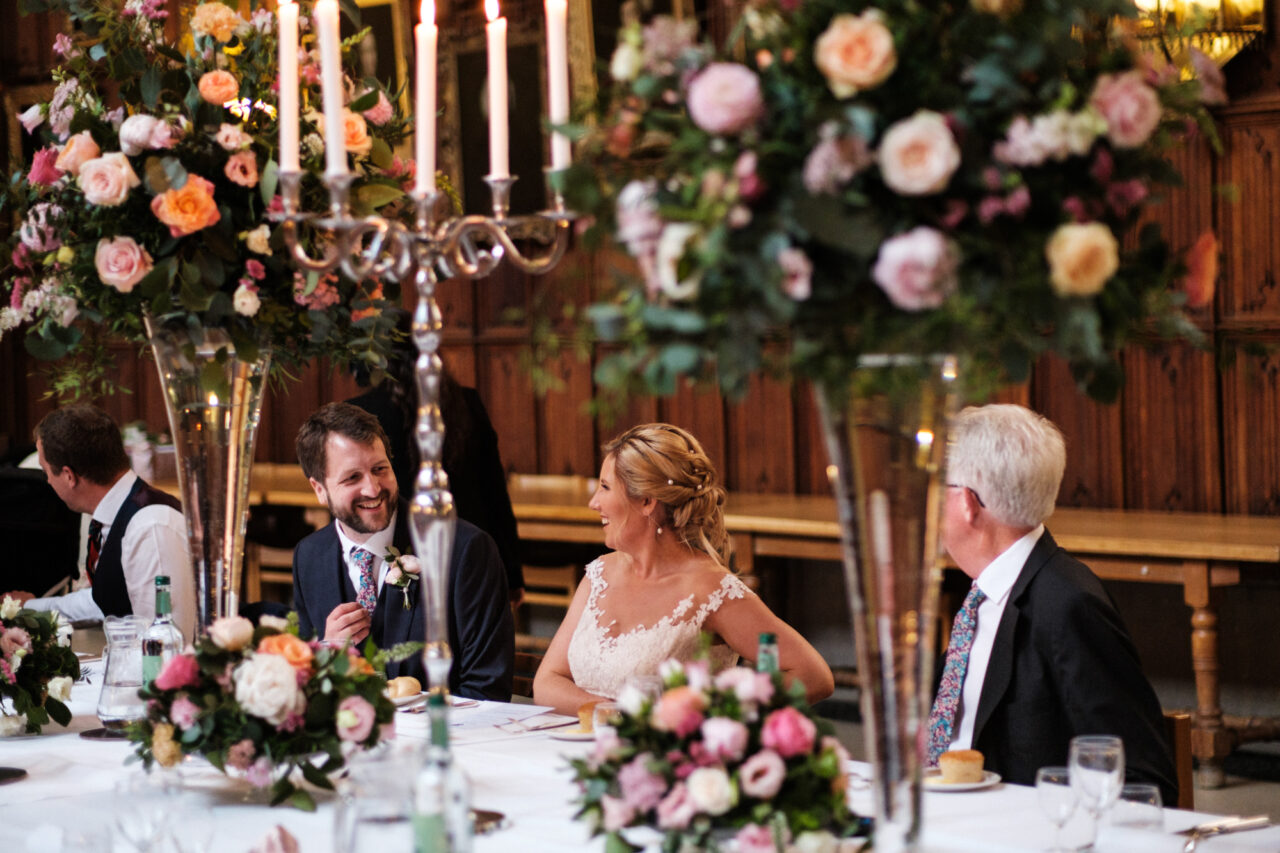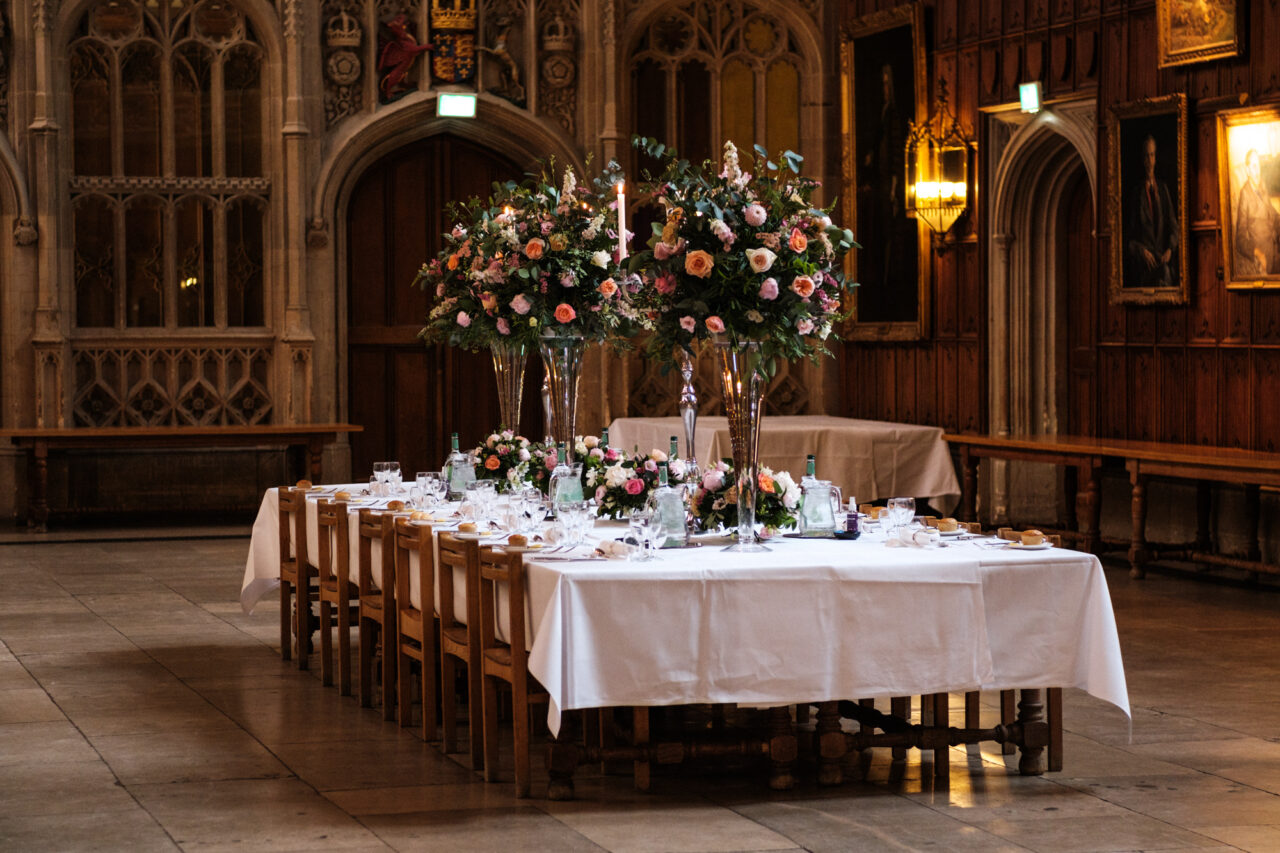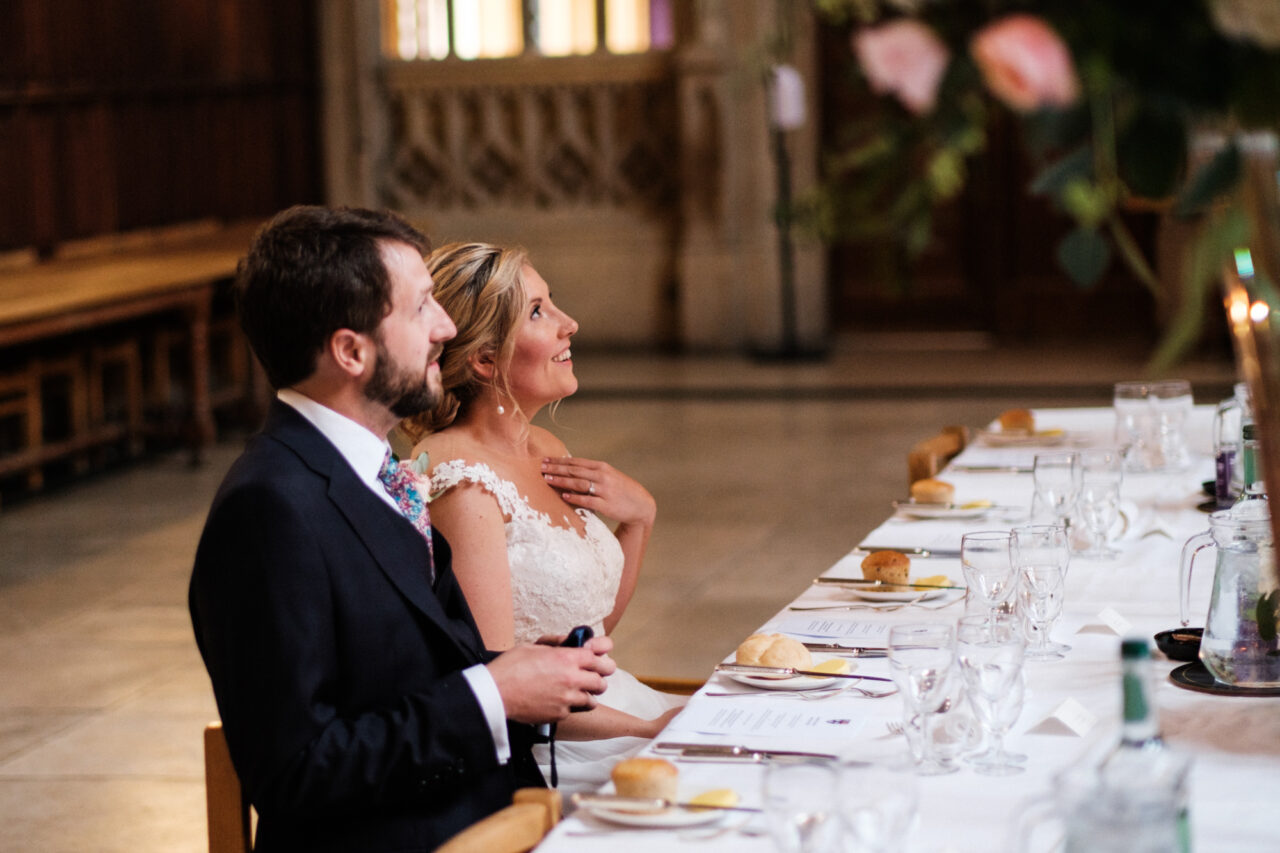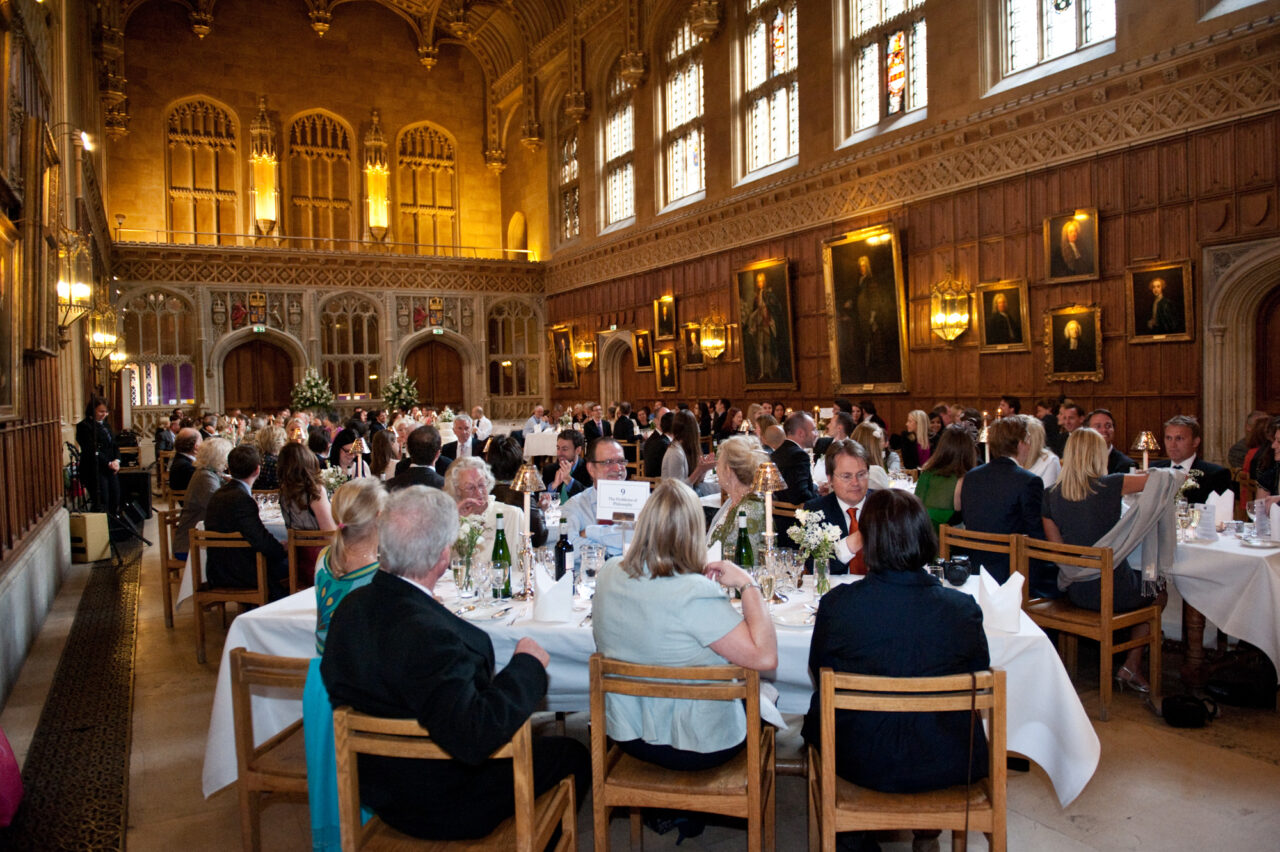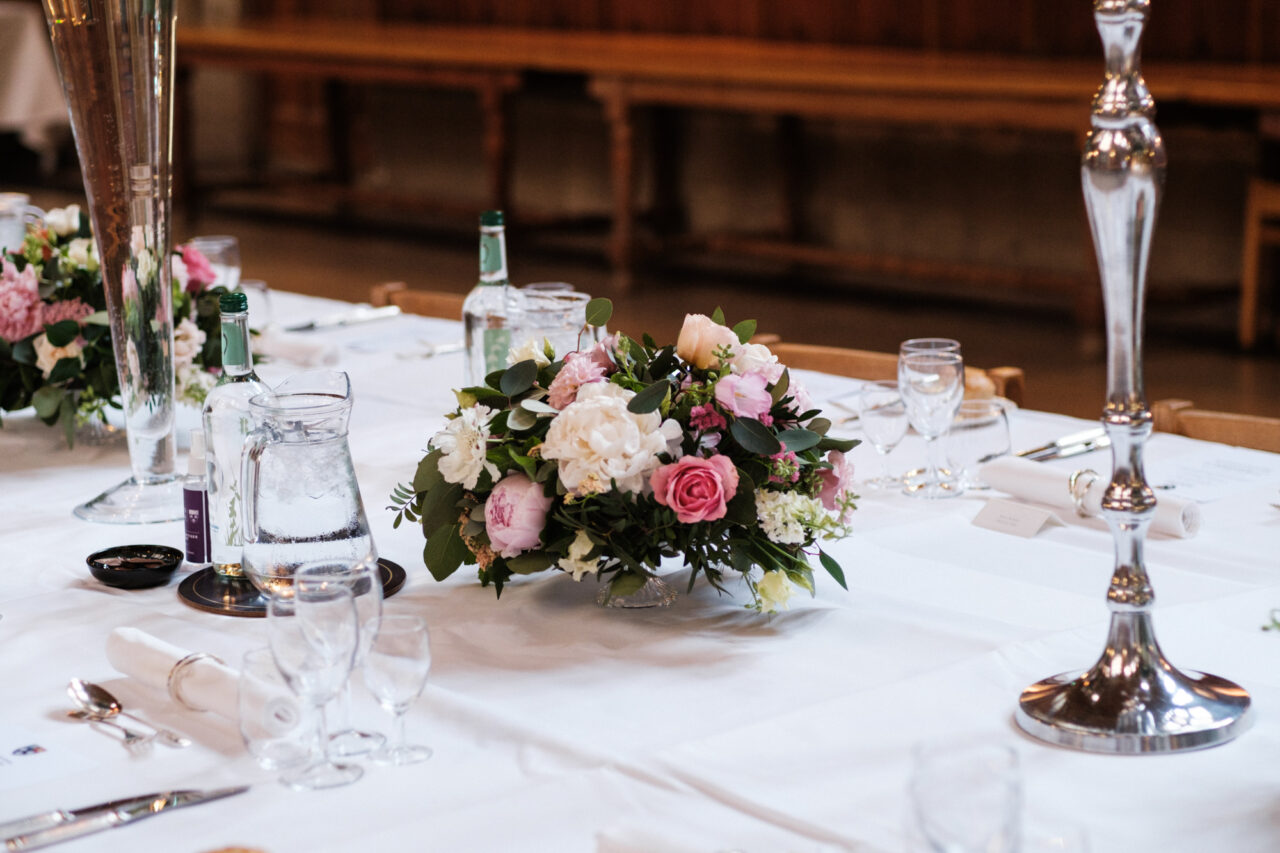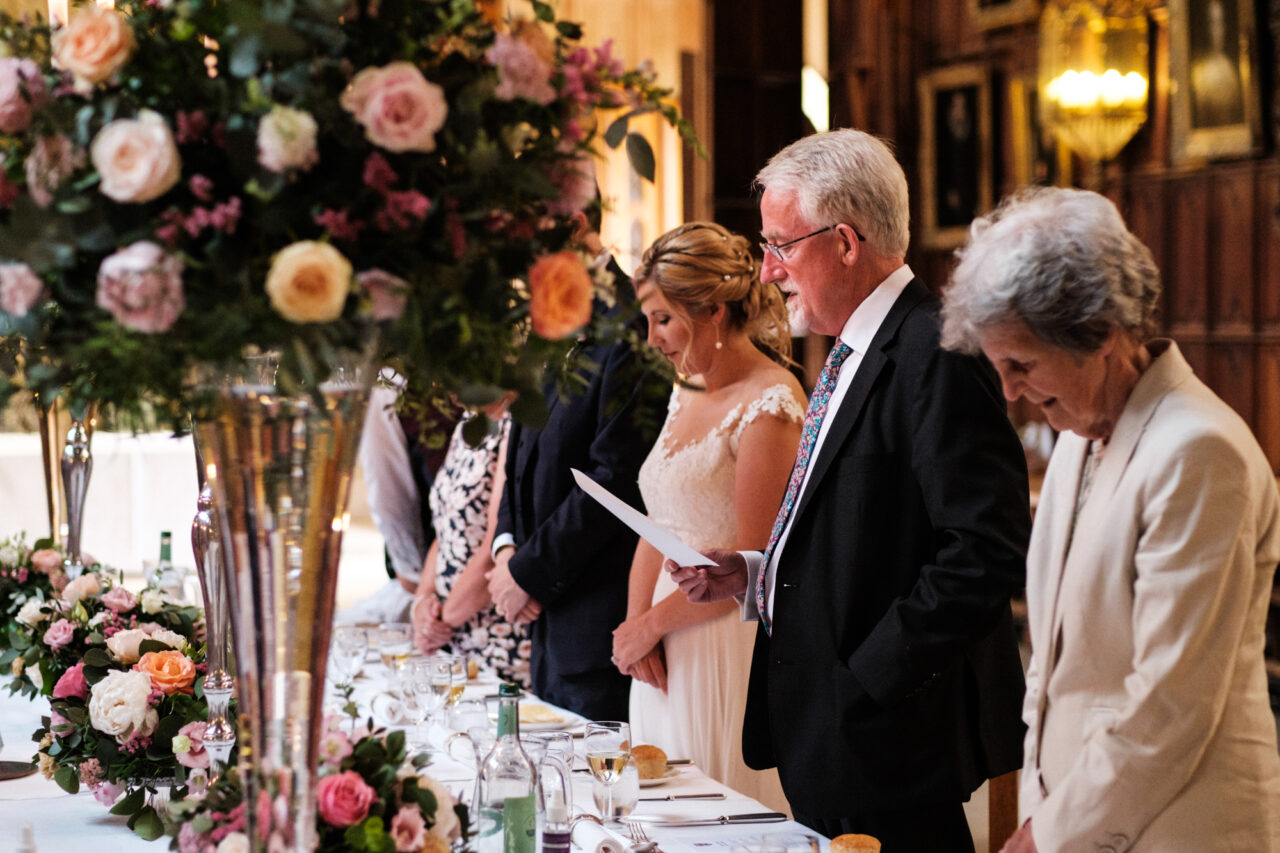 On King's Parade
If your wedding is taking place at King's College, then there's no real reason to go outside onto the streets. However, King's Parade has been the setting for some of my favourite pictures. Here is one photograph from a pre-wedding photoshoot in Cambridge, a bride walking to the ceremony with her bridesmaids, and brief dance on the garden wall at night.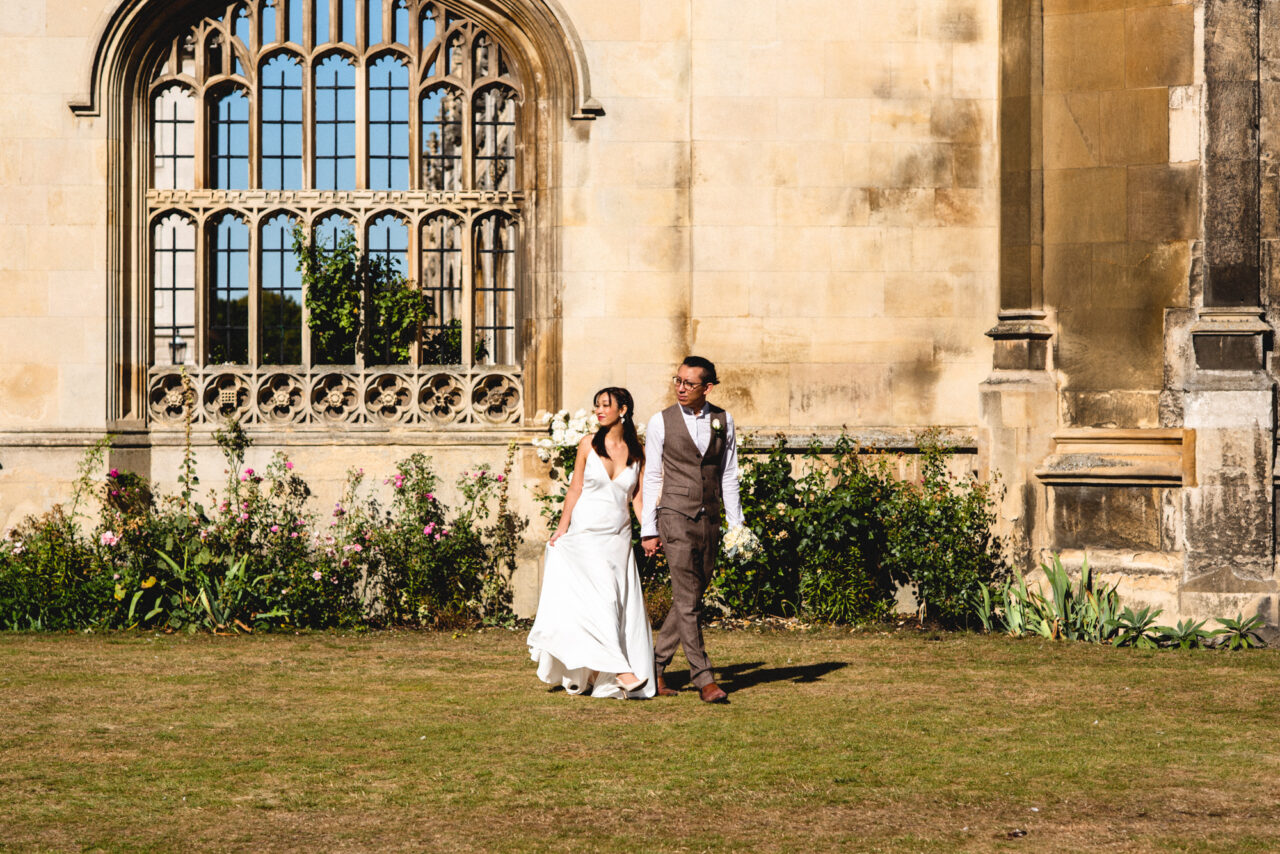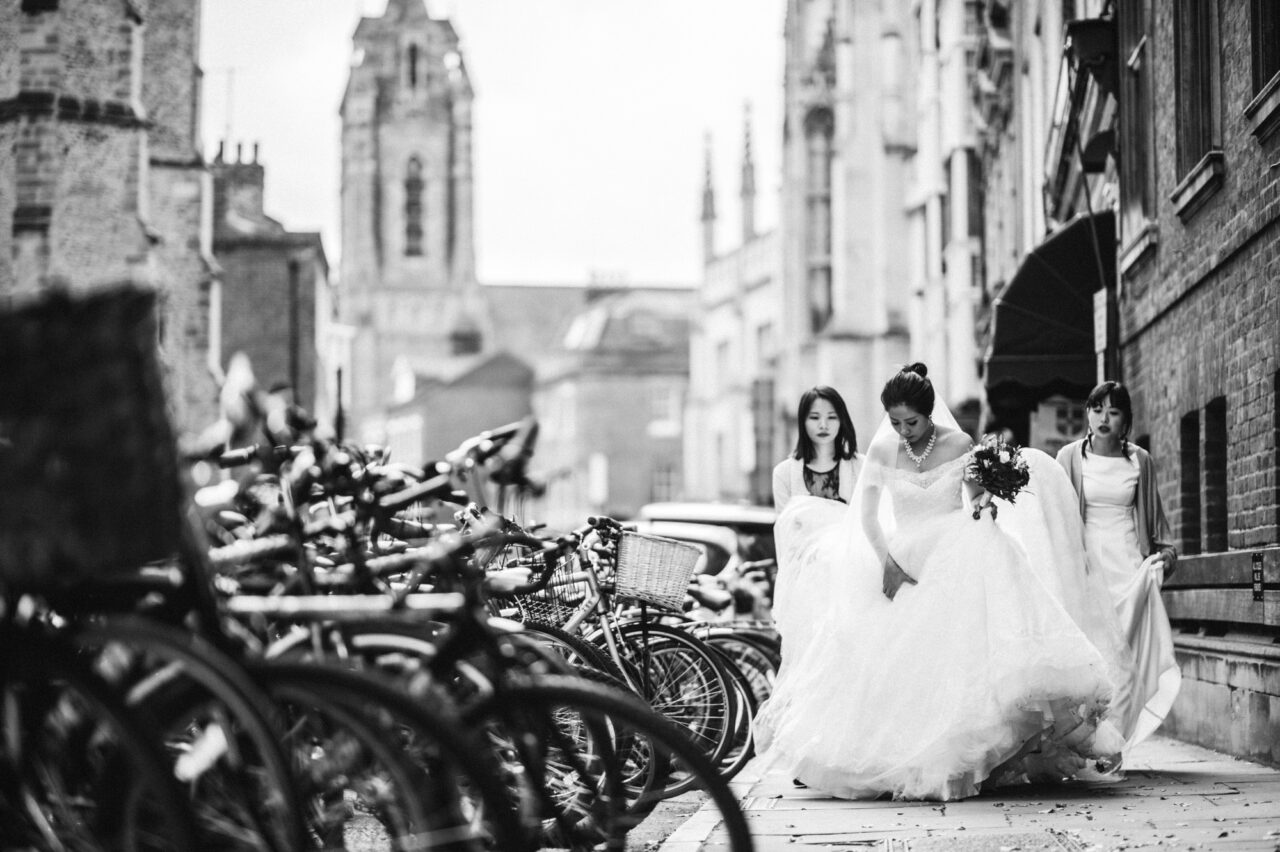 Testimonials
"Chris took photographs of my husband and I both as a couples photo shoot in Cambridge and at our wedding. He is so unassuming that you very quickly feel relaxed and at ease…and that's from someone who has always hated having their photo taken. Until Chris took my photo I honestly don't think I had ever looked good in one, but these I was happy to have enlarged and hung on the walls!"
Vic & Greg
"Chris photographed our wedding and we couldn't be happier with the photos. He is a true artist, and did an amazing job capturing the day in a natural and beautiful way. Also, throughout the planning process he was excellent with communication and after the fact he sent us the finished photos in less than a week! I highly recommend!"
Ashley & Paul
"We honestly could not have asked for more from a photographer than Chris delivered. He cared deeply about our enjoyment and memories of our wedding day – from going the extra mile to get the perfect shot, to pleasantly and pragmatically negotiating the photography rules at our particularly venue. The quality of the final product was great, and we're ecstatic with the blown up versions we've now had wall-mounted."
Ralph & Wing, married in Cambridge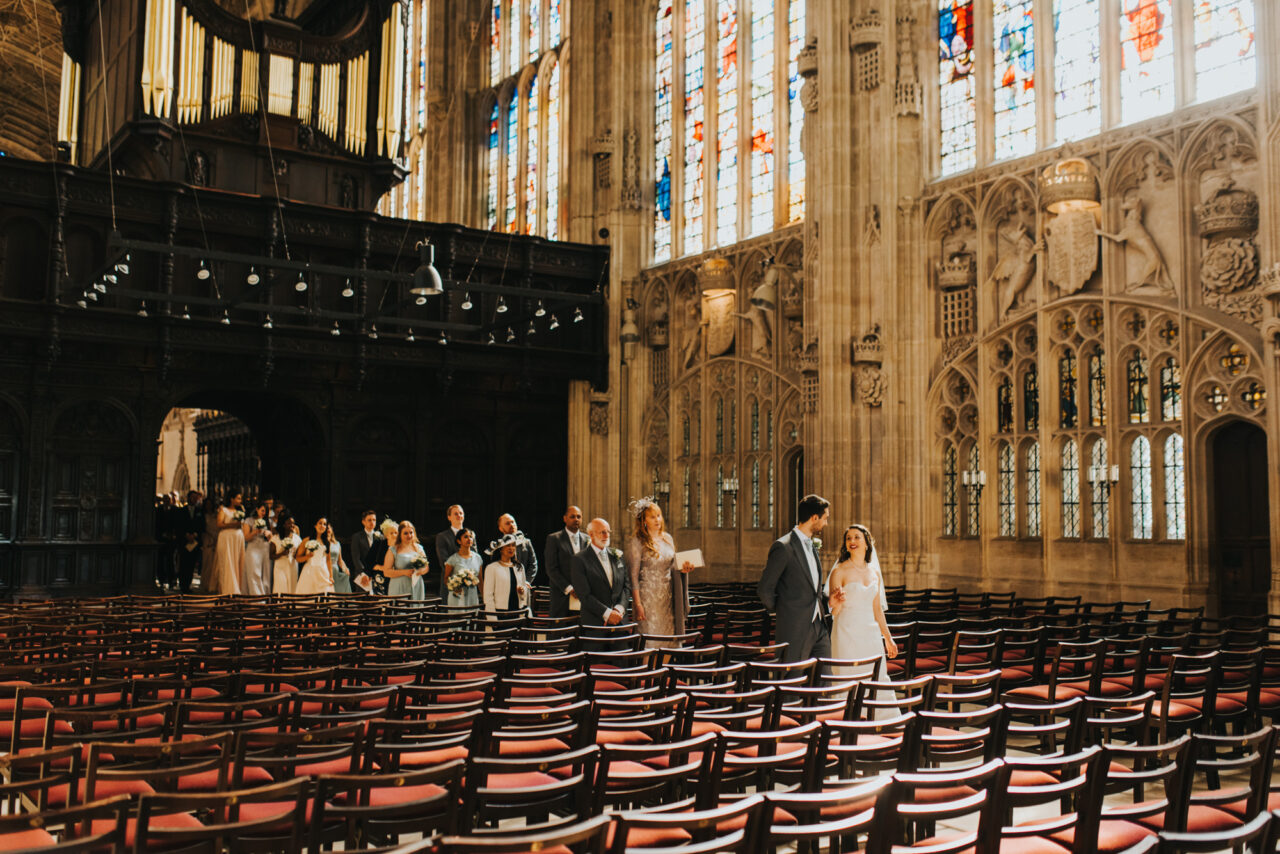 About Me
The first good photograph I took was of Bob Dylan. It was with a simple 35mm film camera at a music festival many years ago. The picture was just a snapshot, but it captured the spirit of the day – which is what it's all about.
Photography and music have always been linked for me as I spent many years photographing concerts and musicians for a newspaper. All through this time I was learning how to use a camera and how to photograph people and it was a wonderful way to learn.
Today I'm a wedding photographer and videographer and could not be happier. If you feel a connection to my style of photography it would be a pleasure to join you on your wedding adventure and to document your special day.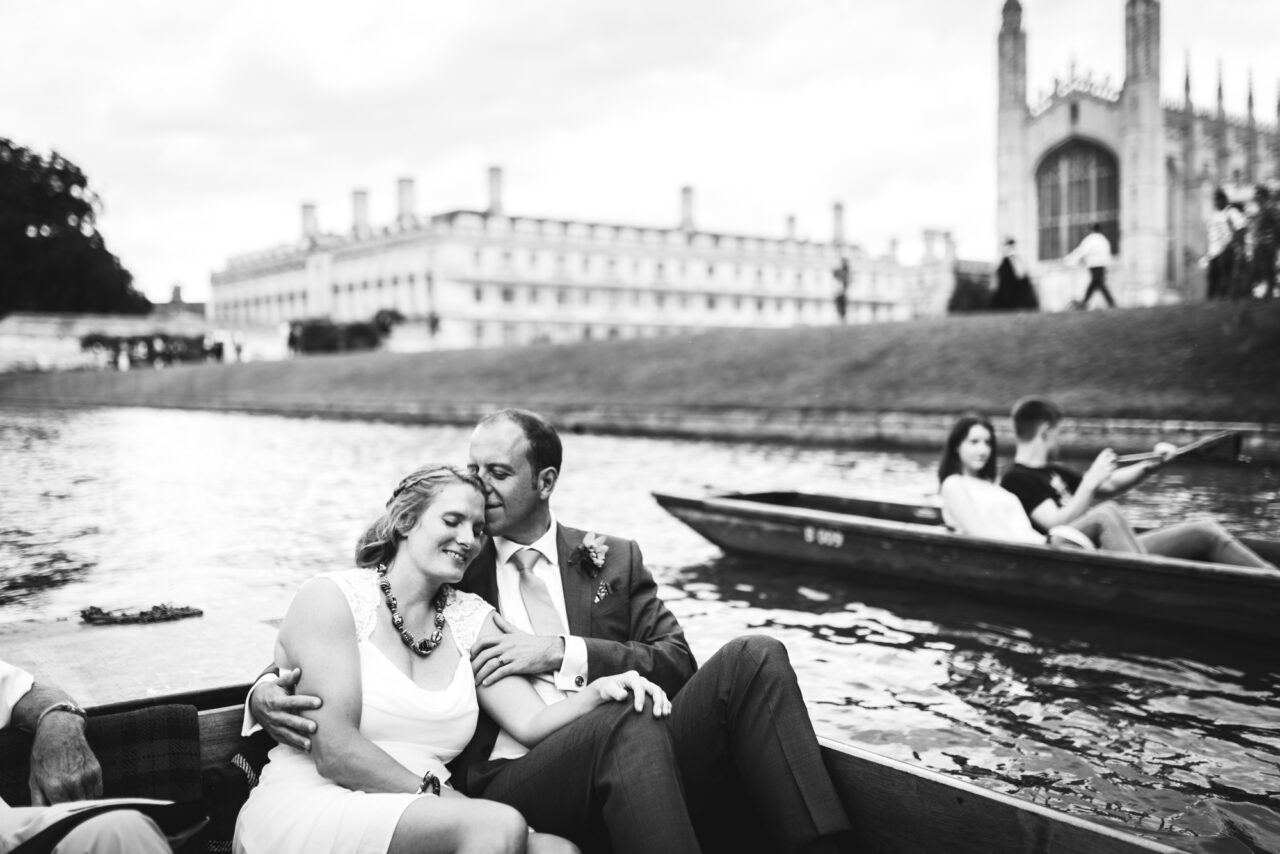 Getting Married at King's College and Looking For a Photographer?
If you are getting married at King's College and are looking for a photographer to document your day in style, then I would love to hear from you.